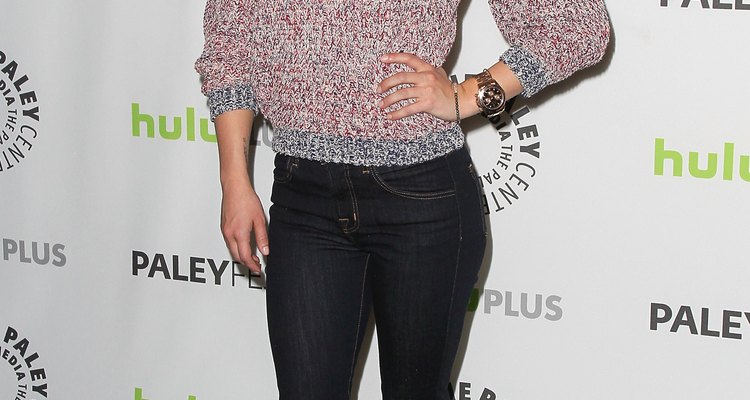 David Livingston/Getty Images Entertainment/Getty Images
When you're wearing a pair of light- to medium-hued shoes, the last thing you want is the dye from your pants to bleed onto your footwear. Unfortunately, certain pants, such as black or dark-rinse jeans, are super-saturated with color, which transfers easily to other fabrics.
Wash your pants according to the care instructions label located on the inside of the garment; this will likely include turning your pants inside out to avoid fading. Set the washing machine on cold for dark colors and warm for light colors. Add color-safe detergent to the wash cycle to help remove excess dyes without stripping your pants of color.
Roll your pants up to avoid contact between your pant legs and shoes. If the inside of your pants are free of dye, roll your pants up once to allow contact between the inner facing of your pant legs and shoes. Or, roll your pants up a couple times -- in a neat fold for a preppier look or a messy rolled appearance for a more laid-back vibe -- to inhibit any contact between your pants and shoes.
Wear socks over your pants if you're a woman wearing skinny jeans. Choose socks that are tall enough to peek out up to an inch above the height of your shoes; this option is primarily focused toward wearing taller footwear such as ankle boots or knee boots. Pull your socks over your skinnies and then slide your boots on. The socks will prevent contact between your pants and shoes, which are mostly in danger of discoloration along the top edges.
Apply a spray protectant to your shoes before wearing them; this product seals the fibers of your shoes to prevent a color transfer. Look for a "waterproofer" product, as repelling water, in addition to dyes, is often one of the main benefits of this type of shoe protectant.
References
Tips
Rewash your pants as necessary until the dye no longer bleeds from the garment. Test your pants by gently rubbing a white cloth along the hemline of each pant leg; if color transfer appears, rewash the pants before wearing.
For existing marks, use a suede eraser followed by a suede brush to remove spots on suede shoes. Or, apply a paste made of baking soda and water to spots on canvas shoes, rubbing until the stain diminishes; remove the paste with a dry cloth.
Warnings
Avoid bleaching bleeding pants unless the instructions specifically mention bleach. Bleeding dyes usually occur on bold to dark fabric coloration, which may become splotchy or otherwise visually damaged with the use of bleach.
Writer Bio
Tarah Damask's writing career began in 2003 and includes experience as a fashion writer/editor for Neiman Marcus, short fiction publications in "North Texas Review," a self-published novel, band biographies, charter school curriculum and articles for various websites. Damask holds a Master of Arts in English and creative writing from the University of North Texas.
Photo Credits
David Livingston/Getty Images Entertainment/Getty Images