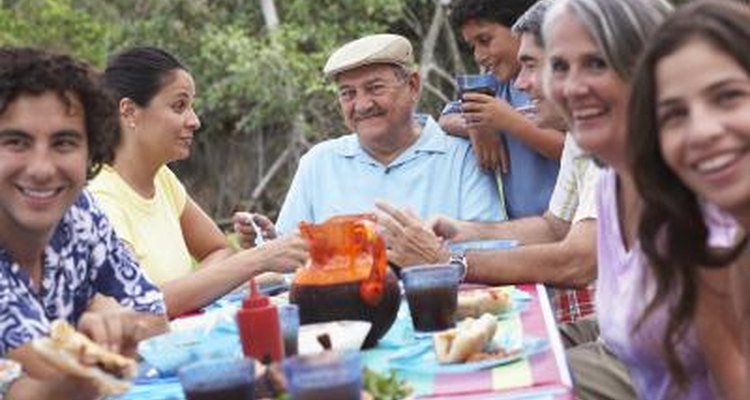 Jenny Acheson/Stockbyte/Getty Images
A family reunion welcome letter acts like a big hug, greeting the family to the week or weekend ahead. Unlike a greeting letter, which usually only says "hello" to a group, a reunion letter addresses important issues for the family group, such as to wear a certain color T-shirt to keep large families together. When writing the welcome letter, mixing an informal, friendly tone with an informative voice is the ideal route.
Start with a friendly salutation. Address family members with a "Dear All," "Welcome (insert pluralized family name)," or Welcome to the annual (last name) Reunion!" Keep the tone light and informal to create a welcoming, fun-loving atmosphere.
Write a caring first paragraph. Ensure all family members arrived safely and are happy with the accommodations, and who to speak to if they are not. Tell guests where they can grab a quick drink and something to eat, such as the hotel's cafeteria or a Greek restaurant across the street. Establish a home base for all your guests, such as the central cafeteria or the hotel's front desk, should anyone accidentally stray from the group.
Include useful information. If you are hosting the reunion at a retreat, ranch, hotel or beach community, note a little bit about the area and the expected weather for the length of your stay. For example, "Welcome Franklins! I hope you all had safe flights from the Midwest to the Southwest. We're looking forward to a great week, filled with beaches, sun, delicious cuisine and much needed relaxation! The Oliver Beach Resort expects sunny weather and a rain shower here and there over the next few days."
Pick a meeting place and time. Give family members time to relax and settle in before calling for a meeting time. Allot one or two hours. For instance, write "You've all had long journeys. Freshen up with a shower, or take a nap, grab a drink and a bite to eat at the hotel bar on the first floor." Slip in a time and place to meet in the afternoon or evening. For example, inform all family members that at 8 p.m. two blue buses will be waiting outside the hotel's main lobby to take them to an al fresco Mediterranean restaurant.
Give a brief itinerary. Avoid writing a list of "things to do" and planned activities in the welcome letter. Provide an overview of what's in store for the family, younger and older, for the reunion. If you are all staying at a winter resort, note that skiing, sledding, movie nights, an indoor swimming pool and sauna, dancing and elegant dining await. Save agendas for a packet of papers you will distribute later giving times and places for daily planned events.
Resources
Writer Bio
Noelle Carver has been a freelance writer since 2009, with work published in "SSYK" and "The Wolf," two U.K. literary journals. Carver holds a Bachelor of Arts in literature from American University and a Master of Fine Arts in writing from The New School. She lives in New York City.
Photo Credits
Jenny Acheson/Stockbyte/Getty Images