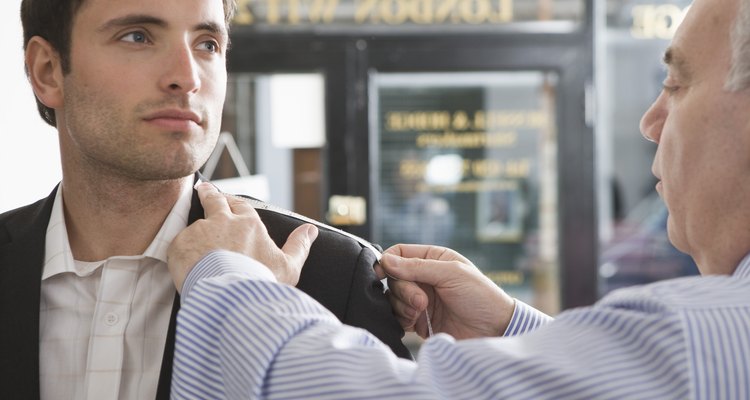 Jupiterimages/BananaStock/Getty Images
Having a tailored suit or dress requires you to stand still and let the tailor take body measurements. It is one of the most important steps of making a custom-made suit or dress, and tailors pay attention to every small detail (or centimeter on this occasion). Despite it seeming an obvious necessity, there are multiple -- and diverse -- reasons why it is important for tailors to take accurate body measurements.
Style
Deviations of even a few centimeters from a customer's size can have a direct impact on how stylish she looks in her tailored suit or dress. For example, a too long dress can make a woman look like a child wearing adult clothes, while a too tight one can reveal her body's imperfections. For a man, long sleeves on a suit cover his hands, while broad shoulders can make it look like a borrowed suit.
Ruining the Garment
Taking accurate measurements does not only affect style, but also the well-being of the garment. An example can be a big man on a small jacket, as there are limited moves he can make without tearing the back or causing the buttons to pop off. In addition, a too long dress can make a woman trip in multiple occasions or just keep stepping on the dress, effectively ruining the garment. In addition, too tight clothes can be the source of multiple health problems, ranging from back pain to abdominal pain.
Getting What You Pay For
If customers were looking for a suit or dress that was approximately their size, with little deviations, they would go to a store looking for ready-made clothes. It's a cheaper option as well. However, the reason for opting for a tailored suit -- paying more in the process -- is because customers are looking for a suit or dress that fits perfectly on them. Therefore, accurate body measurements are essential if the tailor wants to deliver what customers expect.
Wasting Fabric
Accurate body measurements are important for the tailor as well, as material doesn't come for free. Each suit or dress requires a certain amount of material and if tailors use too much, then material supplies will run out more quickly. In addition, too small dresses or suits need fixing, which in turn require additional material. Accurate measurements, however, allow tailors to use exactly as much material as they need and can save for the next task, even though fabric wasting of tailors does not reach the level of textile industries.
Writer Bio
Tasos Vossos has been a professional journalist since 2008. He has previously worked as a staff writer for "Eleftheros Tipos," a leading newspaper of Greece, and is currently a London-based sports reporter for Perform Sports Media in the United Kingdom. He holds a Bachelor of Arts in communication and media from the University of Athens.
Photo Credits
Jupiterimages/BananaStock/Getty Images