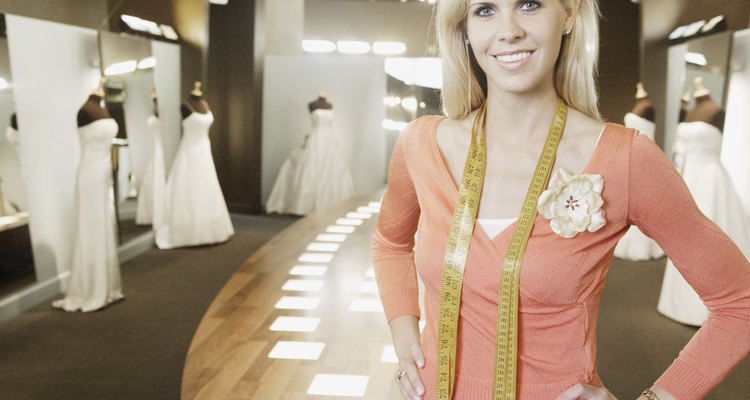 Brand X Pictures/Brand X Pictures/Getty Images
Empire waist dresses are a lovely fit on most body types, so through the years they have become the most popular type of formal dress. With its lovely form-fitted bodice and A-line skirt, the empire waist dress is a truly flattering style. With such a lovely design, it is no wonder most women want to make certain that the dress fits them perfectly. In order to obtain that perfect fit, the dress may need a few alterations.
Bodice Adjustments
Measure the woman's bodice and the circumference of the dress to determine the necessary adjustment.
Have the woman try on the dress to permit you to verify the most comfortable fit with her and make note of the amount.
Pin the amount of fabric to be tucked and have the woman try it on once more to verify the size.
Remove the zipper with a seam ripper.
Fold over half of the necessary fabric reduction from both sides of the zipper. If possible, keep the fabric on the dress in case the woman will require additional adjustments later.
Re-pin the zipper and sew it in place.
Verify with the woman that the dress fits properly.
Skirt Adjustments
Have the woman try on the dress and stand on a stool so that you can adjust the skirt at the bottom. Pin roughly where the woman would like the hem to appear.
Remove the old hem with a seam ripper.
Fold the fabric so that the new hem is exactly where the woman requested.
Remove all but an inch of the fabric so that the bottom of the dress is not bulky.
Fold the bottom up at 1/4 inch, then again at 1/2 inch, so that the edge is cleanly tucked inside. Sew the hem as close to the outer-tucked edge as possible.
References
"Bridal Gowns: How to Make the Wedding Dress of Your Dreams"; Susan E. Andriks; 2000
Writer Bio
Ann White is a freelance journalist with prior experience as a Corporate and Business Attorney and Family Law Mediator. She has written for multiple university newspapers and has published over 300 articles for publishers such as EHow and Garden Guides. White earned her Juris Doctor from Thomas Jefferson School of Law and a Bachelor of Arts in English literature.
Photo Credits
Brand X Pictures/Brand X Pictures/Getty Images