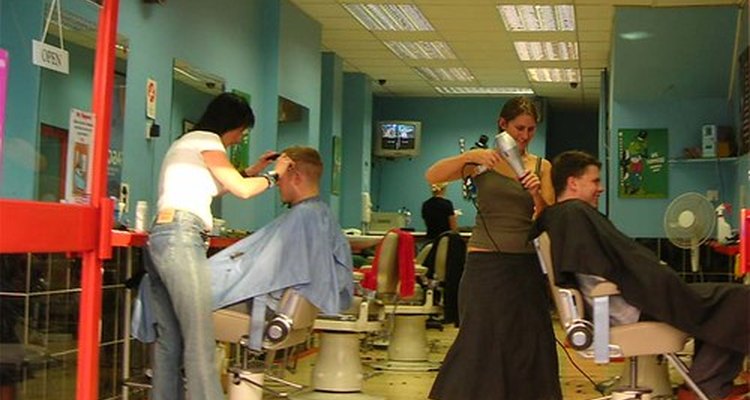 Image by Flickr.com, courtesy of Gideon
The first mechanical hair clipper—a hand-held instrument for cutting various lengths of male or female hair—came out of Serbia in the 19th century. Professionals in the industry today use clippers for trimming mustaches and beards. Dog groomers rely on hair clippers to produce canine styles. Adaptation of the hair clipper to work on sheep shearing revolutionized this industry because of the speed at which the clippers turned a herd of sheep wool into a mound of profit. The development of cordless trimmers and clippers for personal use offered more grooming options. Today, hair clippers continue to provide convenience.
Nikola Bizumic
Born 1823 in Neradin, Serbia, into a rural peasant's life, the young Bizumic found work in the Fruska Mountains, breeding pigs. His turbulent life made him restless and fed up with his animal husbandry duties, so he one day fled to the city of Ruma. Fate led him to barber Petar Javonovic, who needed an assistant, and the young man apprenticed with the barber. Sometime in the mid 19th century, Bizumic revolutionized the barbering world with his invention of the first manual hair clippers. Nikola Bizumic died in 1906.
Leo J. Wahl
A young high-school junior in Sterling, Illinois, Leo Wahl used his experiments and ideas to take a small electromagnetic motor to the next level while still a student at the University of Illinois. Using his education and talent in engineering, Wahl designed a hand-held medical massager for his uncle, Dr. Frank Wahl. Doctor Wahl opened a manufacturing plant in Sterling to produce and sell the invention. During this time, the young inventor sold many of the massagers to barber shops, where he noticed many of the tools needed improvements.
War Opens Wahl's Opportunities
When Dr. Wahl left to serve in the Spanish-American War in 1898, Leo took over his uncle's manufacturing business, where he continued to experiment on an electric hair clipper for more than a decade. Having perfected his invention by 1921, Leo patented his final design and the newly founded Wahl Clipper Corp. presented the world with the first electric hair clipper.
Working With Barbers
The executive Leo Wahl worked with barbers from coast to coast for input to design more efficient and convenient hair clippers. Until his death in 1957, Leo Wahl continued to make improvements to the hair clipper, while introducing other hair care tools to the world. Descendants of Leo Wahl still operate the Wahl Clipper Co. today.
Sidney Horstman
The second youngest of 12 surviving children of a German clock maker, Sidney Horstman was born on April 4, 1887, in Bath, England. Known for his breakthrough designs in automobile suspensions and other motor components, Horstman formed a motorcar company in 1913. After closing his company in 1929, Horstman Inc. continued developing other innovative automobile and industrial products. Sometime in the 1940s, he invented the first built-in adjustable-blade electric hair clipper. This feature allowed barbers to adjust the blade to work more easily with different hair lengths. The Horstman Co. discontinued manufacturing the hair clippers in the 1960s.
References
Writer Bio
Catalina Bixler's journalism career began in 1970. After five years as a publishing teacher, Bixler then published/edited NATO's U.S. 5th Army and 17th AF "Wiesbaden Post" newspaper. She holds a Bachelor of Arts in bilingual-journalism/community development from Redlands University, and a Master of Arts in adult education/training from the University of Phoenix.
Photo Credits
Image by Flickr.com, courtesy of Gideon