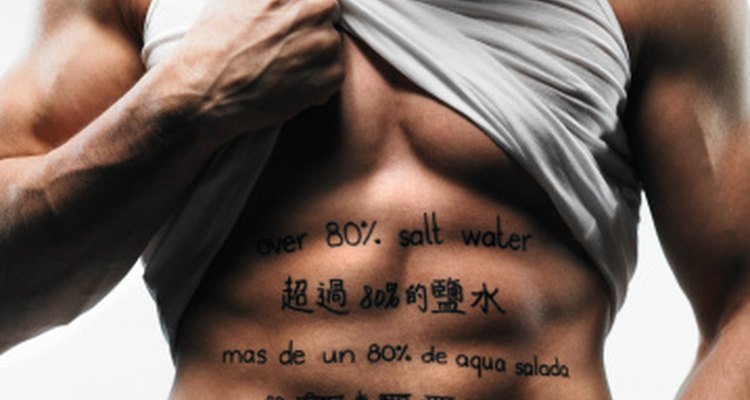 Ryan McVay/Lifesize/Getty Images
Male models made a name in the fashion and modeling industry during 1990s. These male models were seen on covers of popular magazines as well as billboards and TV ads. The fashion magazine Vogue included several '90s male models as their top 25 male models of all time.
Marcus Schenkenberg
One of the most popular and in-demand male models of the '90s was Marcus Schenkenberg. This Swedish-born model became one of Calvin Klein's male endorsers. This 6-foot-4 Swede was born Aug. 4, 1968, near Stockholm. Barry King, a U.S. photographer, discovered Schenkenberg while he was roller-skating in one of the beaches in California. As of 2011, he is still one of the highest paid models in the world and is also considered to have the best body among male models.
Antonio Sabato Jr.
Another one of Calvin Klein's famous male models is Antonio Sabato Jr. His character in the popular 1990s soap opera "General Hospital" made him even more famous. He received three nominations from the Soap Opera Digest Award for his role in the soap opera. This Italian 6-foot-3 model was raised in the United States and appeared in several movies and TV shows such as "Melrose Place." His dimples became his trademark in the movie and fashion industry.
Tyson Beckford
As a teenager, Tyson Beckford became involved in drugs, gangs and other illegal activities. But he was spotted by an editor of the Source magazine, who helped him enter a New York modeling agency. Ralph Lauren then hired him to be an exclusive model for Polo Sport. From then on, the popularity of Beckford grew and he was sought after by major magazines to be on their covers and spreads. This 6-foot model, as of 2011, is the host of the reality show "Make Me a Supermodel."
Mark Vanderloo
Mark Vanderloo was born in Holland and got his first modeling stint at the age of 22 when he posed for the Got Milk campaign advertisement. Because of this ad, an agency offered him a career in the modeling industry. He became Calvin Klein's model, posing for the perfume ad Obsession. Because of his increasing popularity, he became one of the first male models to be on the cover of Marie Claire. As of 2011, Vanderloo is the highest paid model of all time.
References
Writer Bio
Based in North Carolina, Rossana Coscolluela has been writing since 1997. She was editor of the University of the Philippines' "UPV Information Manual" and has also been an editorial consultant for various custom publications. She currently enjoys freelance writing. Coscolluela holds a Bachelor of Arts degree in comparative literature from the University of the Philippines in the Visayas.
Photo Credits
Ryan McVay/Lifesize/Getty Images