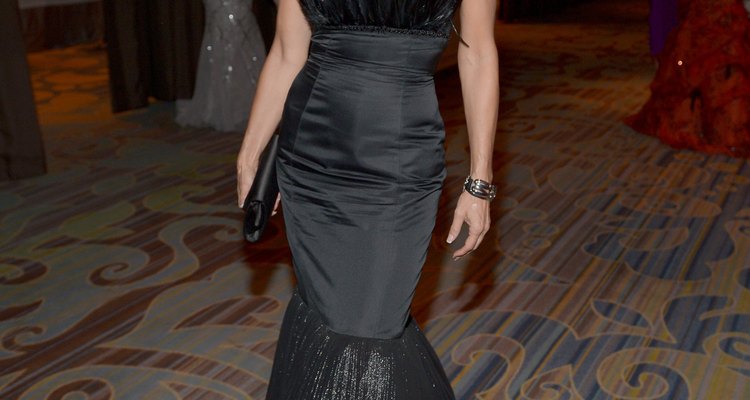 Charley Gallay/Getty Images Entertainment/Getty Images
The word "couture" is a French term meaning "sewing" or "dressmaking." It's become a mainstream word applied to almost any high priced, custom designed clothing, but the true implication of couture is tied to the French expression "haute couture" -- high fashion. For a fashion designer to legally claim her dresses are haute couture, she must be conferred the title by the French Federation of Couture, Ready-to-Wear Tailors and Fashion Designers. To qualify as a member of the couture division of the federation and be permitted to use the haute couture title, a designer must employ a full-time staff of 20 people within a Paris-based workshop and create 35 original designs twice per year. Couture is one-of-a-kind, hand-sewn clothing using the highest quality fabrics and materials. A couture gown can take upward of 300 hours to complete and is custom-made exclusively for one wealthy customer -- couture gowns typically start at $30,000.
Celebrities and the World of Couture
As of 2014, there were only 18 members of the Chambre Syndicale de la Haute Couture -- the only fashion designers truly considered couture. They include Emmy and Academy Award red carpet favorites such as Chanel, Christian Dior and Versace. Celebrities are frequently seen front row at the twice-annual Couture Fashion Week in Paris -- usually scheduled within weeks of the major award shows -- picking out that one dress to make them shine on what could be their big night. Couture dresses are elaborate works of art in luxurious fabrics and materials, and the person the gown will adorn serves as a living exhibition.
References
Writer Bio
Lilian M Raji is a strategic marketing and public relations adviser for luxury lifestyle companies in the areas of fine jewelry and watches, fashion, accessories, beauty, cosmetics, restaurants and hotels. Equally passionate about writing as she is developing and executing business strategy, she has been published on Forbes.com, Luxury Society, "The Village of Merrick Park Magazine" and "Canadian Jeweller Magazine."
Photo Credits
Charley Gallay/Getty Images Entertainment/Getty Images