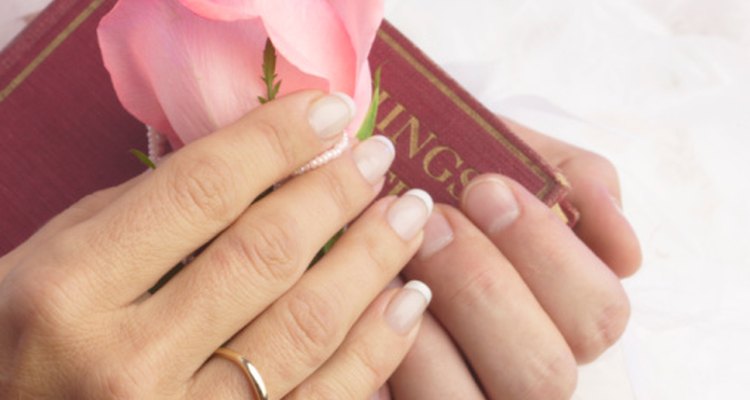 Hemera Technologies/AbleStock.com/Getty Images
wedding prayers and blessings can come from just about any religion and culture. People can opt to have a reading at their wedding that originates from an entirely different religion and culture than either person are from. Blessings and prayers can either be delivered by the wedding officiant or by family members or friends, during the ceremony or reception.
The purpose of a wedding blessing is to present the new couple to God or another higher power and to wish the couple well. The higher power is asked to bless the couple and fulfill their wishes of leading a happy life together. Wedding prayers can come from traditional religious texts or they can be modern, original prayers.
Prayers
The Apache wedding prayer begins, "Now you will feel no rain, for each of you will be shelter for the other." It continues to say that the married couple will protect each other and form a life together. The traditional Catholic wedding prayer begins, "Father, you have made the bond of marriage a holy mystery" and continues to pray that God blesses the couple with a life of love. In some Catholic weddings, there is a dinner prayer repeated before everyone has dinner at the reception. The prayer blesses the food on the table, similar to saying grace.
Ring Blessing
The blessing of the rings is common in a religious marriage ceremony. The officiant who is conducting the wedding asks the Lord to bless the rings that will be worn by the couple. One ring blessing begins, "Lord, bless these rings which we bless in your name and grant that those who wear them may always have strong faith in you."
Scripture
Often, couples will select blessings or prayers that come directly from either the Old Testament or the New Testament in the Bible. There are several passages from the Bible that are appropriate for a wedding or even mention marriage. One very popular reading taken from Scripture is 1 Corinthians 13:4-8a. It says, "Love is patient and kind; love is not jealous or boastful; it is not arrogant or rude. Love does not insist on its own way; it is not irritable or resentful; it does not rejoice at wrong, but rejoices in the right. Love bears all things, believes all things, hopes all things, endures all things. Love never ends."
References
Writer Bio
As a full-time writer in New York's Hudson Valley, Lindsay Pietroluongo's nightlife column and photos have appeared regularly in the "Poughkeepsie Journal" since 2007. Additional publications include "Chronogram," the "New Paltz Sojourn," "About Town" newspaper and "Outsider" magazine. Pietroluongo graduated from Marist College with a B.A. in English.
Photo Credits
Hemera Technologies/AbleStock.com/Getty Images