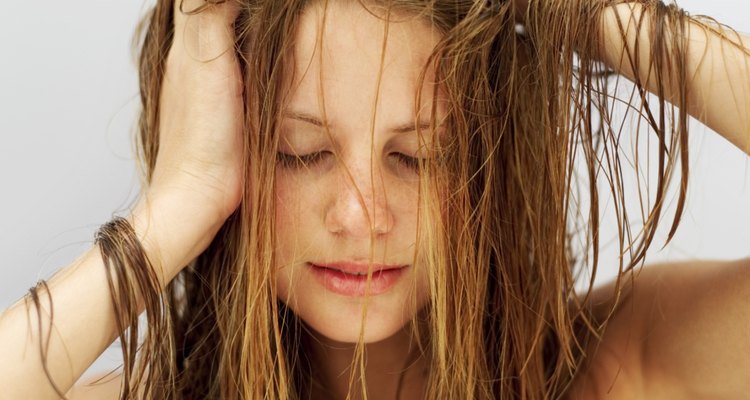 George Doyle/Stockbyte/Getty Images
Waking up in the morning is difficult enough without combing through a head full of painful knots and snarls. All types of hair tangle, but fine or dry locks are especially susceptible to nighttime knotting. Each time you toss and turn in your sleep, your strands overlap, mesh and cross, creating knots by morning. The most effective way to prevent bedtime knotting is by combining multiple methods of tangle prevention.
Detangle At Night
Prevent tangles in the morning by completely removing them at bedtime. Condition your hair thoroughly in the shower or flip your head upside down and apply several shots of detangling spray throughout your locks. For extra thick or curly hair, use leave-in conditioner. Not only will the conditioner make combing out your tangles easier, but the extra moisture helps your tresses glide against each other instead of becoming ensnared.
Smooth Pillows
You can't control your head movement while sleeping, but you can select the fabric of your pillowcase. Cotton and synthetic fabrics, such as polyester, catch and pull strands while you move, creating knots and tangles. Instead, cover your pillow in smooth, natural fabric cases, such as silk or pure satin, which let your locks slide smoothly over the pillow no matter how much you toss and flop in your sleep.
Anti-Knot Hairstyles
Securing your hair before bedtime keeps your locks from spreading and tangling. Your bedtime hairstyle must not cause discomfort while you sleep or leave you with frizzy hair in the morning. A low, loose braid at the neck nape keeps hair in place and creates gentle waves while you sleep. If you blow-dry and straighten at night, flip your head upside down and coil your hair into a bun at the crown of your head. Secure your bun with a non-rubber hair elastic or tie a wide ribbon around the outside of the coiled bun.
Silk Scarf
For short hair that tangles easily, a silk scarf offers protection without friction or requiring you to change your pillowcase. Begin with a large silk scarf folded diagonally into a right triangle. The silk scarf wraps around your head like a typical bandana. The longest side of the triangle must center on your forehead with the two opposite corners pulled down and around past your ears, before tying at the nape of your neck. The remaining corner of the scarf tucks under the knot on your neck nape to encase your entire head of hair while you sleep.
References
Writer Bio
Christina Bednarz Schnell began writing full-time in 2010. Her areas of expertise include child development and behavior, medical conditions and pet health. She holds a Bachelor of Arts in international relations.
Photo Credits
George Doyle/Stockbyte/Getty Images