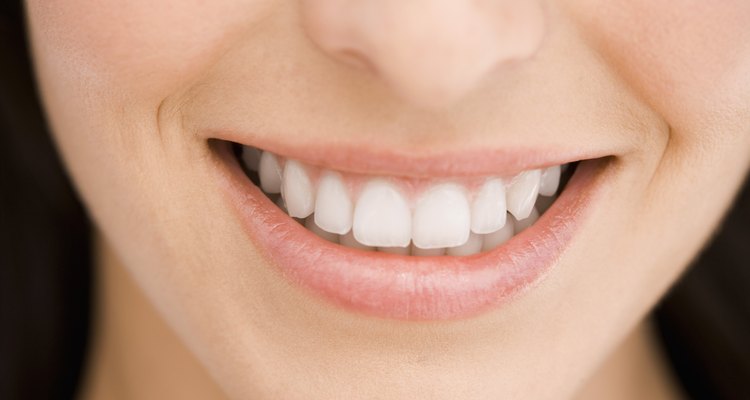 Jupiterimages/Goodshoot/Getty Images
If improving your smile is on your to-do list, consider teeth whitening. Head to the kitchen pantry for a few basic ingredients and tools to naturally whiten your teeth at home. There's no need for expensive whitening treatments at the dentist's office. You can get your teeth whiter in 10 minutes a week by following a daily teeth-cleansing routine after your morning brush with toothpaste and use of dental floss.
Step 1
Place 1/2 cup of baking soda into a small sealable glass food-storage container.
Step 2
Add a few drops of cold water to the baking soda. Use a spoon to stir the mixture into a paste consistency. Use more water if needed.
Step 3
Dip the tip of your toothbrush into the homemade teeth-whitening paste. Seal the container and save the rest of the paste for subsequent brushings.
Step 4
Brush your teeth with the baking soda paste for approximately a minute and a half. Focus on all surfaces, including hard-to-reach molars.
Step 5
Rinse your mouth with a glass of cold water. Swish and spit into the bathroom sink.
References
Resources
Tips
Make teeth whiter faster by brushing with baking soda paste twice a day and avoiding teeth-staining beverages such as coffee and fruit juices.
Warnings
Don't swallowing the baking soda paste as it may cause digestive upset.
Writer Bio
Angela Tague writes marketing content and journalistic pieces for major brands including Bounty, The Nest, Lowe's Home Improvement and Hidden Valley. She also provides feature content to newspapers and writes health and beauty blogs for Daily Glow, Everyday Health and Walgreens. Tague graduated from the University of Iowa with a bachelor's degree in journalism and mass communications in 1999.
Photo Credits
Jupiterimages/Goodshoot/Getty Images