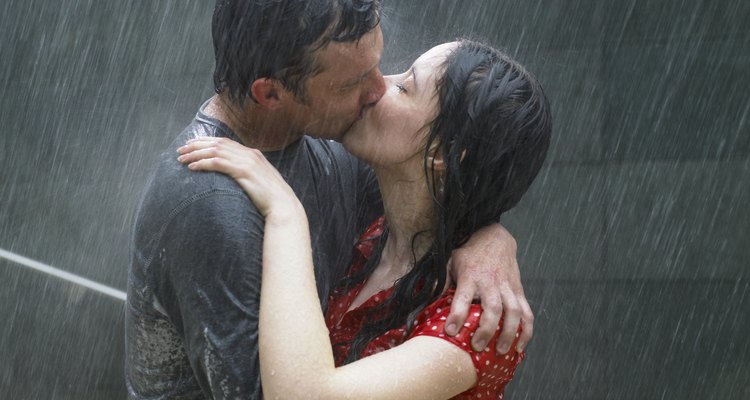 Michael Blann/Digital Vision/Getty Images
A 20-year marriage is worth celebrating. You've been through many highs and lows together. Through it all, you still have plenty of love, but you may feel like you lost a little (or a lot) of the sizzle between you. It's still possible to spice up your marriage no matter how long you've been together or how long things have been bland. Spicing things up often comes down to stepping outside your comfort zone and normal routines to make things exciting and new.
Shake Up Date Night at Home
Never stop dating your husband. It's advice you hear frequently, but it's not always easy to squeeze in date nights even when your kids get older. Make time together at home without the distractions like the TV, your cellphones or bills. Plus, a date at home means you're close to the bedroom when things start heating up.
You sit down at the dinner table every night, so switch it up by dining somewhere else. Spread a blanket in the backyard or on the living room floor for a picnic at home. Set up a candlelit dinner on your balcony to enjoy fresh air and your partner's company. Give yourself a break by hiring a caterer or personal chef to whip up a gourmet meal while you watch from your kitchen table, which can now double as a chef's table. This option gives you more time to slip into something sexy and perfect your look. Plus, you can save your energy for after-dinner activities.
A date night at home is also the perfect time to reminisce. Pull out old family videos, and relive the moments from early in your marriage. Cuddle up under a blanket to watch the movie you went to on your first date. These simple activities take you back to your newlywed days and may help bring back the passion you felt back then.
Try New Things
You quickly fall into a rhythm as a married couple. After 20 years together, it's safe to say you have your routines and roles. But that "same thing, different day" mentality keeps you stuck in a rut and makes it tough to get excited about anything.
Commit to trying new things all the time. It doesn't have to be a big, long-term thing like planning a trip to Europe, although there's nothing wrong with that, either. Even little things like going to a restaurant you wouldn't normally choose or visiting a local attraction that you've never seen can shake things up. Things that make you laugh or have fun often make for the best time. Look for interactive experiences like dance lessons or cooking class that immerse you in the activity. Make a bucket list of new things you want to do together, and cross items off as you go to inspire yourselves to keep things fresh.
Doing something new can also extend to your conversations. Repeating the same conversations about school drop-off frustrations, work complaints, bills and upcoming family schedules does nothing to create excitement. Designate a time to go over the essentials like financials and schedules, but keep everyday conversations more exciting. Talk about exciting upcoming plans like a weekend getaway or a fun adults-only night out. Share the funny parts of your day instead of just the complaints. Relive fun memories from the early days of your relationship. Not sure what to talk about? Write random questions or topics on strips of paper and keep them in a jar. When you're in the mood to talk about something other than that annoying colleague, pull out a topic and start chatting.
Wear Something New
Being in a long-term marriage means you can truly be yourself. Through sweatpants, no make-up days and skipped showers, your spouse loves you unconditionally. But it doesn't hurt to spice things up with some sexy new clothes occasionally. Not only does your partner get a nice surprise, but you may feel sexier and more confident in yourself, which can help heat things up in your marriage.
Dressing up and looking nice goes both ways. A man can sport a new shirt that shows off his physique or spritz on a new cologne that drives his wife wild. A fresh shave or haircut can also stir up a woman's passion.
References
Resources
Writer Bio
Shelley Frost writes professionally on a full-time basis, specializing in lifestyle, family, parenting and relationship topics. She holds an education degree and has extensive experience working with kids and parents.
Photo Credits
Michael Blann/Digital Vision/Getty Images