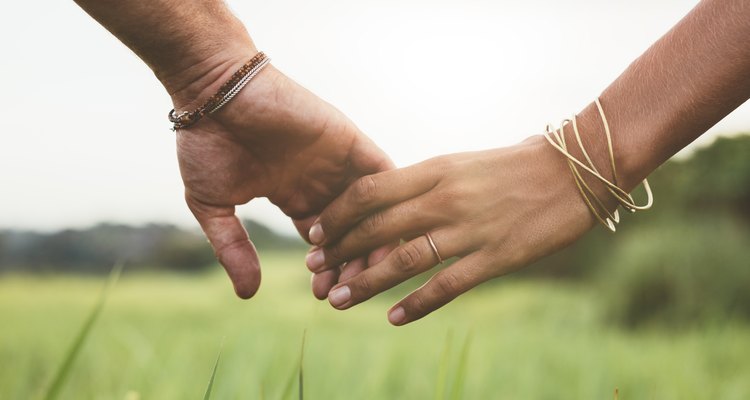 jacoblund/iStock/GettyImages
Making Love Moment by Moment
You may have heard the old saying that it only takes a moment to show someone you love them. Too bad that's not exactly true. You don't need to prove your love 24/7, but it takes many moments throughout the days, weeks, months and years of your life together to show your love is real. Fortunately, most love moments won't cost you a penny and take very little planning or effort if you truly understand the one you love.
Start With the Basics
If you're not already an expert regarding your partner, spend some time thinking about what he wants, what he hates and what he enjoys. If you can't name his favorite color or describe his current dream vacation, you may need a refresher course about the love of your life. Make it a priority to spend time just being together and getting to know one another.
Reconnecting With Your Partner
It's easy to lose sight of each other as the years roll by, especially when kids come along and use up all the extra space and energy in a room. But it's just as easy to reconnect if you're willing to make your relationship with your partner one of your priorities.
Organize a lunchtime meal together once a week and talk about your adult selves. Give your partner a night of your full attention once a month. Maybe schedule an overnight stay at a luxe hotel in your area or send the kids to grandma's place and create your own at-home spa experience.
Try raking leaves, trimming bushes or completing other household chores as a couple. It may sound a little less attractive than spa night, but working together as a team often opens up all sorts of interesting dialogue. It also helps grow your trust and love for one another.
Make It Purposeful
Much of what you do on any given day to juggle your job responsibilities with your home life is a shining example of your love for your partner. But, you can make the message clear by taking time to ask about your partner's current work project or latest hobby. Simply remembering and asking about what's going on in his life reminds your partner that you love and think about him daily.
Strive for Simple
Although a diamond is an amazing gift and a gourmet meal comes in handy now and then, meaningful moments don't have to begin and end with expensive jewelry or tasty cuisine. Instead, try taking over his most-dreaded chore for a week or corralling the kids for Saturday morning cartoons, so she can sleep. Gestures like this can be just as romantic as a candlelit dinner on a rooftop.
Say It Out Loud
Cook his favorite meal and mention you did because you know it makes him happy. If your partner does the cooking, thank him for the meal. Familiarity sometimes makes it easy to let simple courtesies slide. But the simplest gestures or words often carry the most meaning.
And, remember to praise your partner out loud in front of others. As long as you're authentic, you'll remind him you love his mellow nature, thoughtfulness or other character traits. Listeners may accuse you of bragging, but isn't that the point?
References
Writer Bio
Sandra King uses her life experience as a small business owner, single parent, community volunteer and obsessive traveler to write about a variety of topics. She holds degrees in communication and psychology and has earned certificates in medical writing, business management and landscape gardening. She uses her writing skills to inform her audience of the many interesting adventures available in life and provides tips for growing beyond the challenges you'll meet along the way.