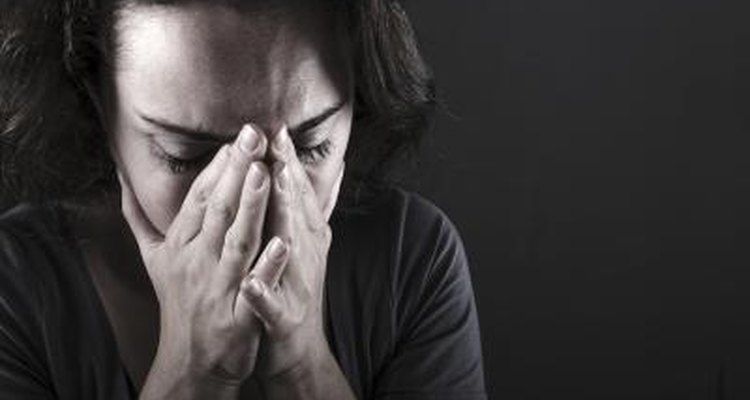 mactrunk/iStock/Getty Images
You deal with more than just the grieving process when you lose a parent. As you cope with those emotions, you might also have to sort through your parent's belongings after death. This process can take a heavy toll on your already frazzled emotions. You can help ease your burden if you ask for help and create a plan for how to sort through the belongings and how to deal with any family disagreements.
Dealing With Practicalities
Step 1
Find your parent's will if one was written. This helps you know which belongings are already designated for certain people. Try to do this within the first week after your parent's death.
Step 2
Find other family, friends or neighbors who are willing to help, especially ones who are efficient in certain areas, such as organizing or delegating. Tell them when you would like to have the sorting completed so they can help you meet that goal.
Step 3
Create a plan for where you want to start in the house. If there are bills or accounts you need to deal with, you might want to start in the office. If you feel like clothes are taking up the most space, you might choose to go through the bedrooms first.
Step 4
Designate different categories for your parent's belongings. Some items might already be willed to specific people, some you might plan to keep, others you might give away or donate to charity. When considering charities, keep organizations that your parent supported in mind. You can use color-coded sticky notes to designate each item by category as you move through the house.
Step 5
Keep a record of what items you donate for tax purposes.
Step 6
Reduce the number of items you plan to keep by asking a few questions: Do you have space? Do you have more than one? Can you take a photograph of the item to keep in place of the actual thing? Can you create something else from the item?
Dealing With Emotions
Step 1
Set a time frame to finish, but keep in mind that you will probably deal with a lot of emotions as you sort through the belongings. Rent a storage unit for a set amount of time if you need to get things out of the house quickly. This gives you time to sort through slowly as you deal with emotions, but also gives you an end date to complete the task.
Step 2
Create a plan for any disagreements with family members over sentimental items. Set aside any items that cause a disagreement, take a break, work through the next set of items and then discuss the disputed item again, suggests professional organizer Paula Berman in the article "How to Sort Through What's Left Behind," on Modern Loss.
Step 3
Pick a person to be in charge of final decisions. You can choose another family member or a friend. This helps avoid disagreements between people who are too closely involved.
Step 4
Agree with your siblings that no item is to be removed from your parent's belongings without all of you reaching an agreement on the item.
Step 5
Talk to other family members to see if there are any of your parent's belongings that they are interested in keeping. Something that isn't important to you might be important to them. Talking to them ahead of time helps avoid conflict in the future.
Step 6
Walk through the house and make a list of your parent's belongings that are too difficult, emotionally, for you to sort through. Give the list to friends who have offered to help and ask them to take care of these items.
Step 7
Set aside any items that you feel an extra emotional tie to and plan to go through those later. This allows you to have more time without the pressure of getting through everything.
Step 8
Plan to display items that have special meaning to you. You might put these items in a shadow box, special cabinet or on a special shelf.
References
Writer Bio
Tamara Runzel has been writing parenting, family and relationship articles since 2008. Runzel started in television news, followed by education before deciding to be a stay at home mom. She is now a mom of three and home schools her two oldest children. Runzel holds a Bachelor of Arts in communication from University of the Pacific.
Photo Credits
mactrunk/iStock/Getty Images