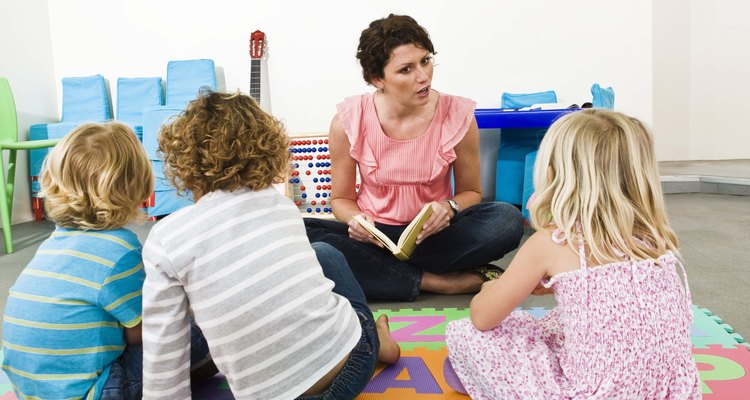 Jupiterimages/Goodshoot/Getty Images
Child Care Management Services (CCMS) is a statewide social service program sponsored by the Texas Workforce Commission. The purpose of the program is to help eligible families find affordable, quality childcare by subsidizing the cost. To sign up for CCMS, parents must meet all of the eligibility requirements and complete the application process. Not every child care agency is required to accept payment through CCMS, so it is the responsibility of the parent to find child care that is compatible with this program. Even with CCMS, parents may be required to pay some of the child care cost, depending upon their circumstances.
Step 1
Contact your local Texas Workforce Commission office to find out if you are eligible for CCMS. The child needing care must be 13 years of age or younger, unless the local board determines that a child between the ages of 13 and 19 has disabilities and requires care through CCMS. The income level to qualify depends upon the size of the family and where the family lives.
Step 2
Complete the CCMS application form from your local Workforce office. Among the information needed is name, address, workplace or school of the parent, income, other sources of financial assistance, social security numbers of family members, and information about everyone in the household.
Step 3
Submit the application by email or mail. It is possible that you will qualify, but will then be placed on a waiting list for child care since the program is dependent upon available funds.
Step 4
Choose a child care provider for your child from a list of contracted providers. Choices include licensed day care centers, licensed in home centers, or approved relative care. CCMS will subsidize the cost of child care and pay the provider directly, after the established financial responsibility of the parent, if any, has been paid.
References
Writer Bio
Jennifer DeDonato currently works as a freelance writer, proofreader and editor. She earned a bachelor's degree in English in 1997 and has published study materials for an educational company. While a college student in 1995, DeDonato started writing for her university's yearbook and spent her college career writing and editing. She has been a professional writer for more than 14 years.
Photo Credits
Jupiterimages/Goodshoot/Getty Images