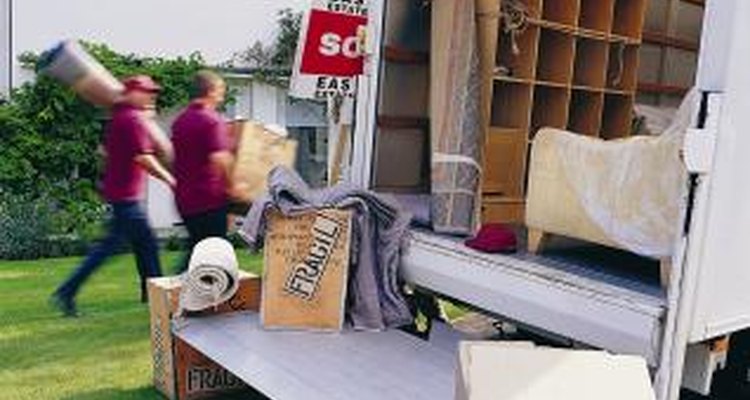 Digital Vision./Digital Vision/Getty Images
So, you're trading in your surf board for a cowboy hat and moving from California to Texas. Making a smooth transition to another state requires planning, organization and plenty of work. Taking time to prepare for the move will greatly decrease the stress and hassle. Proper preparation will expedite the moving process by eliminating many of the last minute occurrences that turn moving into a major headache for you and those who are helping you move.
Step 1
Set a move date. The moving date must be set several months in advance so that you can set, and reach goals in each step of the relocation. When setting a moving date, consider any commitments you have made for the future; if you have kids in school, you might want to let them finish the year, and you might chose during which season you would prefer to make the move.
Step 2
Start collecting moving supplies. Contact stores to see if they will save boxes for you to pick up each day. Banana boxes are great for moving because they are sturdy, have handles and stack easily. Let friends, family and co-workers know you are in need of boxes. If all else fails, boxes can be purchased at shipping supply stores or on the Internet.
Step 3
Start packing early. Set up a room just for items that are being moved, this will be a staging area to keep things organized. Pack things that are out-of-season like cloths or decorations; because you are moving to Texas consider selling or donating all cold weather items. Pack books, most of the dishes and things that fill closets cupboards and drawers. Sort through things and downsize. Ask yourself if each item is something you really want to move; do you use it? Use a marker to write on each box the general contents or room it goes in then stack the boxes accordingly.
Gradually continue packing only keeping out the most necessary items. Set up a large trash bag or box for trash and one for items you wish to donate or put in a yard sale.
Step 4
Research the city in Texas that you are moving to. Check apartment and housing guides for places that fit your budget. If you have children, check into the school district that each house or apartment is in. If it is possible, go to the city in advance to view houses or apartments and the neighborhoods they are in.
Step 5
Start a job search. If you do not have a job that is transferring to Texas, you will need to find a job. It can be difficult to find a job in advance of the move because employers want to know that the person they are hiring is established and able to begin immediately. If you are moving to a location in Texas where you already have family or friends, ask them if you can use their address on resumes and applications -- a local address will increase your chances of hearing from a prospective employer.
Step 6
Finish packing. As you get closer to the moving day start packing and organizing the major items. Move all large items to the middle of the main room close to the door. All the large items will go on the moving truck first, having them together and ready to go will speed up the move to Texas.
Step 7
Notify the utility companies that you are moving to Texas. You can have the utility shut off if you wish, either way, leave a forwarding address if you have one. Have your auto insurance policy updated.
Step 8
Have records transferred to institutions of your choice in Texas. Contact the hospital, doctor and school for records. Some places may give you the records others may require that the new institution request them. Get any memberships you have if they can be transferred.
Step 9
Go to the post office or to the USPS.com to file a change of address. Notify any magazines you receive of the new Texas address so that you'll continue to get them on time.
Step 10
Register and plate your vehicle, You have 30 days to register your car in the state of Texas. The vehicle must be registered and plated at the tax assessor-collector's office in the county you will be living in. To get the vehicle registered and plated you must have a proof of ownership such as a title or your California vehicle registration; you will also need to provide proof of insurance. The local and state fees to register the vehicle will vary depending on the year of the vehicle. As of January 1, 2011, a model year 2005 and older cost $40.80 plus local fees to register. Fees for cars 2006 and newer will be slightly more and vehicles weighing more than 6,000 pounds may have a significantly higher fee.
Step 11
Obtain a new Texas license at the local Department of Public Safety. In Texas you have 90 days from the day you move to the state to secure a Texas driver's license. You will be required to provide the new mailing address, a birth certificate, Social Security card, vehicle title or registration and proof of insurance. You will also be required to take an eye exam, and turn in your California license and plates. The fee for a new license must be paid by cash, money order or non-temporary check. The License fee, as of 2011, is $16 for ages those younger than the age of 18 years and $25 for ages 18 and older.
Step 12
Set up new financial accounts at a bank or credit union. If your funds are in a bank that has a branch in your new city in Texas, you can simply update your information.
References
Resources
Writer Bio
Nick Johnson has been writing professionally since 2000. His creative works have been published in collaborative books, as well as various online publications such as Kids Ministry Resources, a children's ministry website.
Photo Credits
Digital Vision./Digital Vision/Getty Images