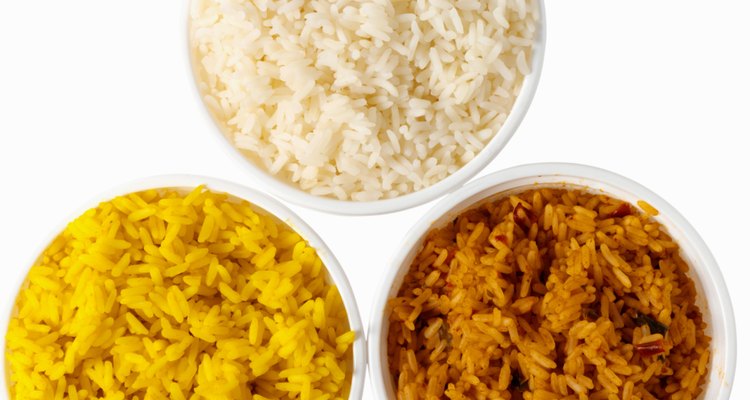 Ciaran Griffin/Stockbyte/Getty Images
Few foods say "time to celebrate" better than a prime rib beef roast with all the trimmings. The challenge is making those trimmings just as interesting and tasty as the beef, while not taking up hours of time in the kitchen. Choose sides that can be made ahead of time or that don't require much preparation at the last minute.
Pleasant Potatoes
Potatoes are pleasers whether baked, roasted or sauted. Baked potatoes with sour cream, butter, chives and bacon bits seems to be the potato of choice in restaurants. Scalloped potatoes are richly satisfying, with layers of potatoes and onions topped with cream and cheese. Crusty roasted rosemary and garlic potatoes are another option, especially if you've seasoned the prime rib with rosemary and garlic. Another option combines sauted bacon with diced potatoes and corn. Add a splash of cream a few minutes before serving.
Rice is Right
Rice cooks quickly without much effort on your part. The downside is that rice can be bland. Rice pilaf adds the scent of saffron to plain white rice. If you're not serving mushrooms as a side dish, stuff portabella mushrooms with wild rice, one per diner. An elegant presentation for rice starts with a tuna fish can that has had its bottom and top lids removed. Set it on the plate, stuff it full of rice, and carefully remove the can. The rice retains the shape of the can. Add a pat of compound butter -- herbs and butter mixed together -- to melt into the rice.
Various Vegetables
Creamed spinach shows up as a classic side dish at steakhouses and goes well with prime rib. It's fast to prepare. Wilt down the spinach and add butter and cream. Reduce until there's not much liquid left. Young stalks of asparagus elegantly accompany prime rib in the spring when served warm in a lemon vinaigrette. Brussels sprouts become sweeter after the first frost in fall. Brown in the oven with a drizzle of olive oil. Add walnuts to the pan about 10 minutes before the sprouts are done. Don't roast them in the same oven the prime rib is cooking in; the moisture from the sprouts prevents the crust on the prime rib from becoming crisp.
Pop Up for Popovers
In England, Yorkshire pudding -- a type of popover -- partners with roast beef. It's baked in a very hot oven for a short period of time after the prime rib is finished. Yorkshire pudding is cooked in the drippings of the roast. It's not a real pudding, but more like a crisp outer shell with a soft sunken interior. Popovers are similar in that they're crispy on the outside and mostly air on the inside.
References
The Art of Cooking; Arnold Zabert
Writer Bio
Katie Jensen's first book was published in 2000. Since then she has written additional books as well as screenplays, website content and e-books. Rosehill holds a Master of Business Administration from Arizona State University. Her articles specialize in business and personal finance. Her passion includes cooking, eating and writing about food.
Photo Credits
Ciaran Griffin/Stockbyte/Getty Images