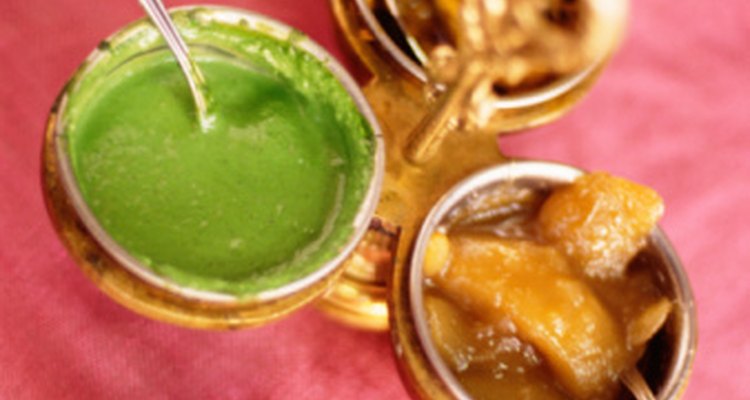 Jupiterimages/Photos.com/Getty Images
Major Grey's Chutney is the the best-selling chutney in the United States made from mangos and tamarind. Produced by the English company Crosse & Blackwell, it is said to have been invented by a British army officer in the 1800s. Major Grey's Chutney has many uses in recipes, including quick and easy meals, party foods, main courses and for holiday meals.
Quick and Easy Meals
Major Grey's Chutney may be used in quick and easy meals. Add a tablespoon of the chutney on toast with a slice of cheddar cheese for a simple snack. Add chutney to your favorite salad recipe, such as tuna or chicken. Major Grey's Chutney may also be used on leftover grilled meats for an easy meal, and it can be used as an ingredient for salad dressing. Blend it with orange juice, lime juice, garlic and chipotle chili in adobo sauce for a low-fat and flavorful salad dressing.
Parties
Host a party with food that uses Major Grey's Chutney. Tea sandwiches are finger sandwiches that work well for parties. Spread the chutney on white bread and add cream cheese, cheddar cheese and coriander. Cut off the crusts and cut the sandwiches into squares. Indian samosas are savory pastries with meats and vegetables. Create your own from scratch or purchase frozen ones from the grocery store, and use Major Grey's Chutney as a topping. The chutney may also be used as a condiment for sausages and hot dogs for a buffet party.
Main Course
Indian-influenced main courses may use Major Grey's chutney in their recipes. Grill shrimp for Tandoori shrimp and mango. Toss mango, watercress and coriander together in a bowl and place it on a plate. Add the cooked shrimp on top and add the chutney over the shrimp. Curries such as beef curry are enhanced with Major Grey's Chutney. Add a few tablespoons to the curry while it is cooking for a sweet and sour flavor.
Holidays
Holiday meals may also use Major Grey's Chutney. At Christmas, you may offer the chutney as an accompaniment to honey ham or roast turkey. Holiday dinner with guests may call for a cheese dip made with cream cheese, cheddar cheese, scallions, bacon and Major Grey's Chutney. For Diwali, which is an Indian winter holiday, you may offer guests a variety of Indian foods with the chutney. Serve it with curries, grilled meats, and poppadoms, which are crisp breads made from lentils.
References
Writer Bio
Charong Chow has been writing professionally since 1995. Her work has appeared in magazines such as "Zing" and "Ocean Drive." Chow graduated from the University of Miami with a Bachelor of Arts in philosophy. She also received a Bachelor of Fine Arts from the California Institute of the Arts.
Photo Credits
Jupiterimages/Photos.com/Getty Images