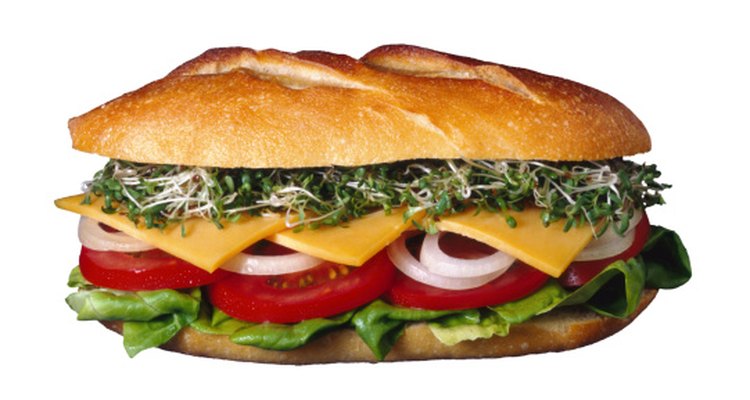 Brand X Pictures/Brand X Pictures/Getty Images
Nothing tastes or smells as good as hamburgers or spaghetti cooking. However, with today's trend towards healthy eating and cutting back on red meat, substitutions are popular and plentiful. Recipes for ground beef are substituted with several different vegetable and soy choices. By adding a variety of seasonings and ingredients, you can create suitable ground beef alternatives. With today's rising food prices, you will also save some money with this economical choice.
Mushrooms
Portobella mushrooms in their natural form make tasty and easy hamburger substitutes. Generously rub the mushroom with steak seasoning, olive oil, salt and pepper and cook on the barbecue. Add lettuce, tomatoes and a slice of cheese to a toasted hamburger bun, and you have a healthy and tasty sandwich. Enjoy a delicious spaghetti sauce by chopping fresh mushrooms, celery, onions, green pepper and garlic and browning them in olive oil. Add canned chopped tomatoes, tomato sauce and season with oregano, basil, salt and pepper. Pour the cooked mixture over whole grain pasta.
Beans and Legumes
Make a vegetarian meatloaf with a variety of different beans including white beans, black beans, pinto beans and lentils. Precook lentils or beans until tender. Add steak seasoning, salt and pepper to your mix. Pour in two drops of liquid smoke for a dense flavor. Mix with grated cheese, chopped onions, uncooked oats and one egg. Form into individual hamburgers and pan fry until browned, or put the mixture in a meatloaf pan. Add carrots, potatoes, onions and bake until fully cooked.
Tofu
Tofu, a soy product, is versatile for making many meat substitute meals. Precook firm tofu over a mesquite barbecue for smokey flavor. Add the tofu to sauteed chopped onions, garlic and bell peppers. Make hamburger patties by adding an egg white and cooked brown rice. Saute in olive oil until brown, then serve in a whole wheat bun with grated cheese, onions, jalapenos, tomatoes and lettuce. Make tofu spaghetti sauce. Brown your tofu with chopped onions, mushrooms and fresh garlic. When fully cooked, add tomato sauce and chopped tomatoes with basil and oregano. Serve over whole grain pasta.
Beef Crumbles
Ground beef crumbles, made from soy protein, are another versatile substitute for ground beef. You will find a variety of these meat alternatives packaged in cans, dried or frozen. These products are completely cooked and seasoned to taste like pork, beef, chicken and deli meats. Saute the crumbles in olive oil and add favorite chopped veggies such as tomatoes, peppers, onions, zucchini and celery. You can also make hamburgers, meatloaf, tacos and add to eggs for omelets.
References
Writer Bio
Carol Stanley has been a writer and speaker for over 30 years. She has written for several Arizona publications including the "Arizona Republic." She attended the University of California-Los Angeles and the University of Arizona. She authored the book "For Kids 59.99 & Over," among other publications.
Photo Credits
Brand X Pictures/Brand X Pictures/Getty Images