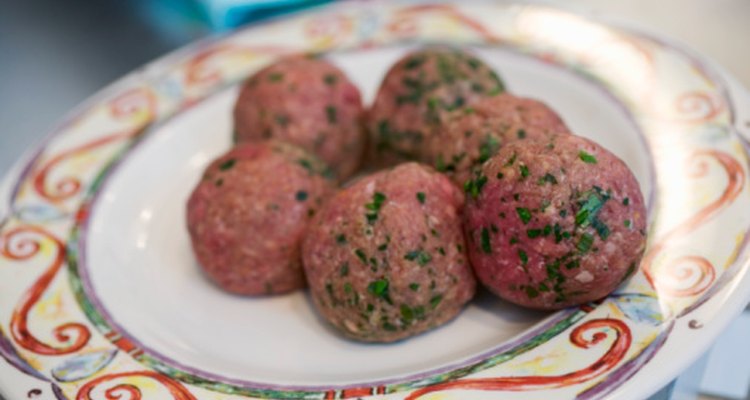 Creatas/Creatas/Getty Images
Meatballs are a mixture of ground meat, eggs, bread crumbs and spices. Once formed into balls, they are often cooked in a skillet with hot oil. Cooking meatballs in oil adds unnecessary fat. Meatballs are just as delicious and still have a nice brown coloring when baked in the oven, and this method is a healthier choice. Serve these meatballs with a jar of heated marinara sauce, grated Parmesan cheese and cooked pasta for a quick and delicious Italian dinner.
Preheat the oven to 375 degrees F. Line two baking sheets with tin foil.
Stir the milk and egg together in a large mixing bowl. Add the ground meat, bread crumbs, onion, green pepper, garlic, Parmesan, black pepper, salt and basil. Mix all the ingredients thoroughly with your hands until they are well incorporated
Cover the meatball mixture with plastic wrap. Chill the mixture in the refrigerator for 15 minutes.
Roll the meatballs with your hands into 1-inch balls. Distribute the meatballs evenly on to the two ungreased baking pans, ensuring they are not crowded.
Bake at 375 degrees for 25 minutes. Remove the meatballs from the oven and turn the oven to a high broil. Turn the meatballs over and replace pan to oven, about 5 inches under broiler. Broil for three minutes. Remove the meatballs form the oven and enjoy.
References
Tips
Once cooked, your cooled meatballs can be stored in a freezer bag in the freezer until needed, for up to three months. You can use these meatballs in many recipes, including Swedish meatballs. You can also serve them simply with barbecue or sweet and sour sauce as an appetizer.
Writer Bio
Sarah Bourque has been a freelance writer since 2006 and is based in the Pacific Northwest. She writes and edits for the local publisher, Pacific Crest Imprint and has written for several online content sites. Her work recently appeared in "The Goldendale Tourism and Economic Development Magazine" and "Sail the Gorge!" magazine. She attended Portland Community College where she studied psychology.
Photo Credits
Creatas/Creatas/Getty Images