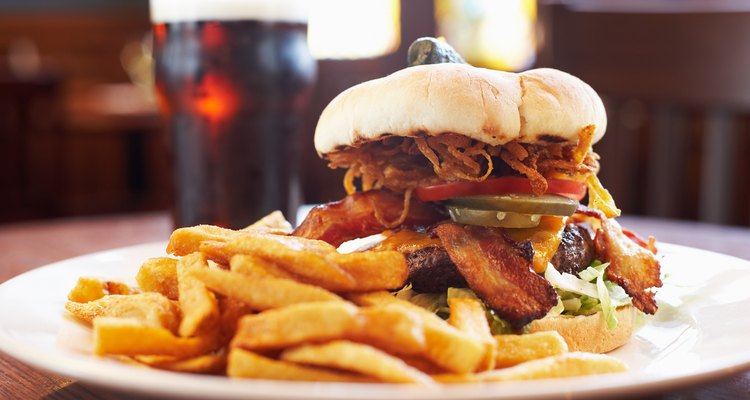 Jupiterimages/Photos.com/Getty Images
The advantage to pre-made burgers is each patty is exactly the same diameter and thickness so all the burgers are done at the same time. Over-handling ground beef makes it tough, but you don't have that problem with ready-made burgers. Individual burgers also defrost faster than a pound of ground beef. The disadvantage is that most preformed burgers aren't seasoned. You can fix this.
Special Spices
Try seasoning mixes such as taco, onion soup, ranch or Italian for a quick way to season the burgers. If you're not sure how much to use, sprinkle a bit on one patty, cook it and taste it. You can always add more but it's difficult to take it off if you've sprinkled too much. Put your own spice mixture together with items like fennel, garlic and onion powder. Other spices include garam marsala -- a basic in Indian cooking -- which adds heat and flavor. Cumin has an earthy tang and is used in Mexican cooking. Cinnamon adds an exotic touch. Dill seed echoes the flavor of dill pickles. Grind the spices right before using. Pat on both sides of the burger.
Heavenly Herbs
Nearly every herb goes with burgers. Dried herbs work better than fresh herbs because the fresh herbs contain moisture that steams the burgers. You won't get that brown crust on your burger. Add some of the herbs you use with the burger to the mayonnaise you spread on the bun. Try oregano, basil and marjoram or a combination of cilantro and lemon thyme. Rosemary is strongly flavored, so a little goes a long way. Garnish the burger with a few fresh leaves of the herb you used to season it with.
Stupendous Sauces
Brush the burger with a homemade or bottled barbecue sauce before or after cooking. Other types of sauces include hot pepper, steak sauce, mustard and Italian salad dressing. Make your own sauce from the browned bits of burger left in the cooking pan. Deglaze the pan with the liquid of your choice -- wine, beer and broth all work well. Reduce the liquid to concentrate the sauce. Add a pat of ice cold butter to thicken the sauce. Dip the burger buns into the sauce or pour the sauce over the burgers.
Various Vegetables
You might not think of vegetables as seasoning but the sweetness of sauteed onions and the aromatic bite of garlic are exactly that. Other vegetable toppings include mushrooms, tomatoes, sweet and hot peppers. Char the peppers under the broiler for a smoky taste. Saute other vegetables in the pan after the burger has cooked.
References
The Art of Cooking; Arnold Zabert
Writer Bio
Katie Jensen's first book was published in 2000. Since then she has written additional books as well as screenplays, website content and e-books. Rosehill holds a Master of Business Administration from Arizona State University. Her articles specialize in business and personal finance. Her passion includes cooking, eating and writing about food.
Photo Credits
Jupiterimages/Photos.com/Getty Images