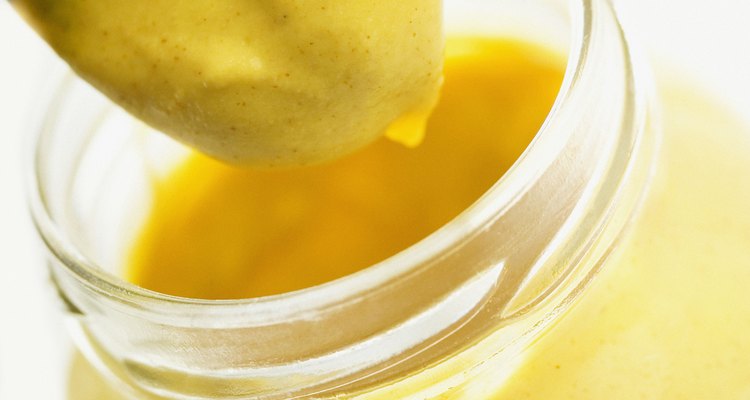 Medioimages/Photodisc/Photodisc/Getty Images
Deep-fried alligator is a common appetizer in Southern states such as Louisiana, Alabama and Florida, typically served in bite-sized pieces along with a dipping sauce. The choices for dipping sauces vary greatly depending on taste preference, whether you prefer a hot sauce to play up the Cajun influence of fried alligator, or a cool, creamy sauce with each crunchy bite.
Remoulade Sauce
If Louisiana had a state dipping sauce, the title would certainly be given to remoulade sauce, a concoction of several ingredients found in your refrigerator door and spice cabinet. Each restaurant and home cook has their own recipe for the perfect remoulade, which means there's plenty of room for substitutions and experimentation. A basic remoulade sauce starts with mayonnaise as the base ingredient, with yellow mustard added for tang, horseradish added to taste and capers for a salty, briny flavor. You might also add fresh lemon juice, a splash each of Worcestershire sauce and hot sauce and spices like garlic, salt and pepper.
Cocktail Sauce
Despite alligator being a reptile, fried alligator is often served with cocktail sauce and treated similarly to fried shrimp. Cocktail sauce offers tangy tomato flavor that can be made mild or spicy, depending on preference. While you can purchase bottled cocktail sauce at any grocery store, making your own allows you to adjust the amount of heat. Cocktail sauce is a mixture of a tomato ketchup base with horseradish added for a bit of a kick. The more horseradish you use, the more intense the cocktail sauce becomes. Other optional ingredients include hot sauce, lemon juice, Worcestershire and celery salt.
Tartar Sauce
Try dipping deep-fried alligator in tartar sauce if you prefer a cool and creamy sauce without any spiciness. The most basic tartar sauce is made with mayonnaise, pickle relish or chopped pickles and fresh lemon juice. Optional ingredients including vinegar, capers and diced onions. For best results, make tartar sauce ahead of time and refrigerate it for at least one hour before serving so the flavors meld. Instead of homemade tartar sauce, you can purchase bottled tartar sauce, but it's best to chill the bottle before serving.
Mustard
Practically any type of mustard pairs well with deep-fried alligator, including yellow mustard, spicy mustard, horseradish mustard and coarse, stone-ground mustard. Mustard complements fried alligator well because it's both tart and tangy, having a taste effect similar to eating French fries with vinegar. If you want a bit of sweetness to go along with the tangy mustard flavor, stir a bit of honey into the mustard to make your own honey mustard dipping sauce. Alternatively, you can purchase bottled honey mustard sauce just the same as other mustard varieties are sold in your grocer's condiment aisle.
References
Writer Bio
A former cake decorator and competitive horticulturist, Amelia Allonsy is most at home in the kitchen or with her hands in the dirt. She received her Bachelor's degree from West Virginia University. Her work has been published in the San Francisco Chronicle and on other websites.
Photo Credits
Medioimages/Photodisc/Photodisc/Getty Images