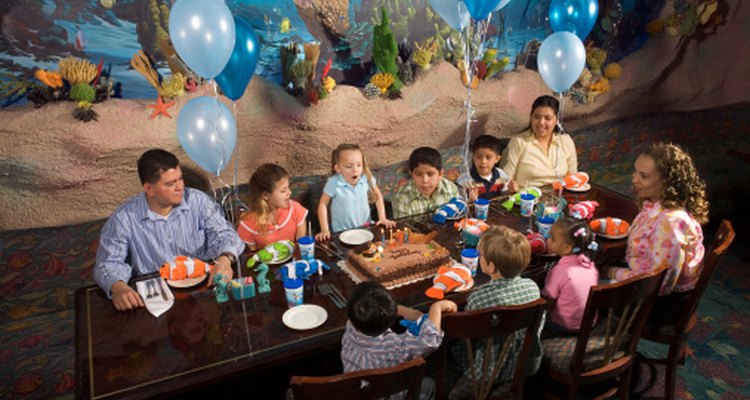 Thinkstock/Comstock/Getty Images
There are many benefits to throwing a child's birthday party at a restaurant. You don't have to prepare your home, make food, bake a cake, decorate the house, provide entertainment or cleanup after -- these are all tasks taken on by the restaurant staff. A few factors to consider when choosing a restaurant for your party include proximity to guests, services offered, entertainment and cost.
McDonald's
McDonald's is an affordable restaurant to host a child's birthday party. Many have indoor playgrounds that children love, and some also have self-contained party rooms. Party packages include invitations, meals, loot bags, a gift for the birthday child and a message board for guests to sign as a keepsake for the birthday child. The party packages at McDonald's also include a party host who will organize and manage the entire party, including setting up party games and handing out prizes.
Chuck E. Cheese's
Chuck E. Cheese's is a restaurant with a large play/game room for children. Some of the things offered include a ball pit, rock climbing wall, small rides and arcade games. They also have people walking around dressed as Chuck E. Cheese characters, such as Chuck the rat, Helen Henny the chicken and Pasqually Pieplate the Italian pizza chef. Check E. Cheese's offers sit-down tables by reservation only where live shows can be seen featuring Chuck E. Cheese's characters. By reserving a table, you also get a number of free game tokens. Chuck E. Cheese's is a pizza restaurant, but other dishes are offered as well, including chicken wings, snack platters and ice cream.
Pizza Hut
Pizza Hut is a favorite among many children. They do not have a playroom of any type; however, this may be a benefit to you if you want your party to stay together as one group. Party packages at Pizza Hut include pizza, drinks, dessert, activity books, coloring placements, crayons and decorations. They also offer a party host to guide your party and a collectible cup for the birthday child, all at a reasonable price.
Dave and Buster's
Dave and Buster's offers fun for children, teens and adults. It is a restaurant with a huge arcade consisting of interactive video games, air hockey, small rides, skeeball, bowling lanes, basket ball hoops and plenty more. Dave and Buster's offers three party packages for kids and teens, all which offer food from the menu or buffet, unlimited drinks and a game card for each guest. The birthday child also receives 10 free credits on his game card.
References
Writer Bio
Crystal Bonser has been working as a freelance writer and editor for an educational website since 2009. She is also the creator of a pet-loss website on which she facilitates weekly grief support groups. Bonser holds a Bachelor of Social Work and a minor in psychology from Ryerson University.
Photo Credits
Thinkstock/Comstock/Getty Images