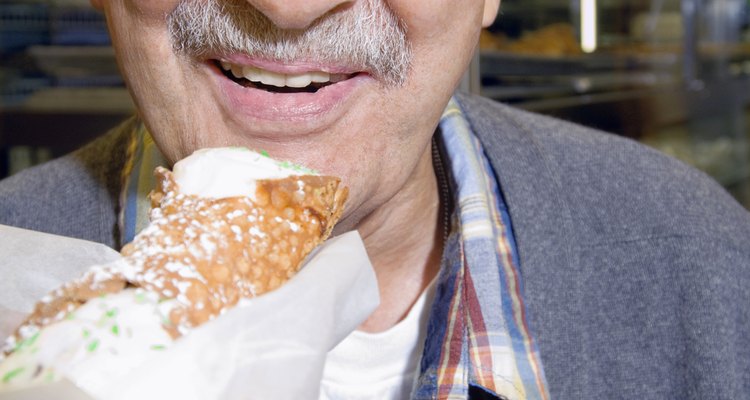 Jupiterimages/Comstock/Getty Images
Simple to stuff, cannoli make quick and appetizing finger food for parties. Traditionally filled with creamed cheese sweetened with honey, the treat of Sicilian origin can be filled with a range of sweet and savory fillings. You can bake low-fat cannoli shells rather than deep frying them, which is the usual method. With the right tools, you'll get the same amount of crunch as their traditional counterparts.
Step 1
Mix the dough following a standard cannoli recipe, first sifting together the dry ingredients and then whisking together the wet ingredients before combining both. Wrap the dough in plastic wrap and let it rest at room temperature for about one hour.
Step 2
Preheat the oven to 375 degrees Fahrenheit. Lightly dust a clean countertop with flour. Roll out the cannoli dough evenly until it's about 1/4-inch thick. Cover the dough with plastic wrap again and let it rest for an additional hour on the countertop.
Step 3
Line a baking tray with a sheet of parchment paper. Then, cut the cannoli dough into ovals with the dough cutter and gently lift the ovals from the floured surface. Wrap them around the cannoli tubes. The stainless steel cannoli tubes help the dough keep its shape while baking and help brown the interior of the shells. You can buy them at kitchen stores or online.
Step 4
Lightly brush the overlapping edges of the cut ovals with egg whites. This helps the cannoli shell stick together as it bakes, but don't let the egg white touch the tube.
Step 5
Set the prepared cannoli, seam side down, on the prepared baking sheet. Place them at least 2-inches apart to allow them to cook evenly. Place the tray in the oven and bake the cannoli shells for around eight to 10 minutes, or until the shells brown.
Step 6
Allow the cannoli shells to cool completely before handling them, as the metal tube can burn your hands. Gently grasp the shell in the palm of one hand and pull the metal tube out with the other.
References
Resources
Writer Bio
Based in Kingston, Canada, Samantha Lowe has been writing for publication since 2006. She has written articles for the "Mars' Hill" newspaper and copy for various design projects. Her design and copy for the "Mars' Hill" won the Associated Collegiate Press Pacemaker award in 2008. Lowe holds an Honors BA from Trinity Western University, and a MSc in Occupational Therapy from Queen's University where she is currently doing her PhD.
Photo Credits
Jupiterimages/Comstock/Getty Images