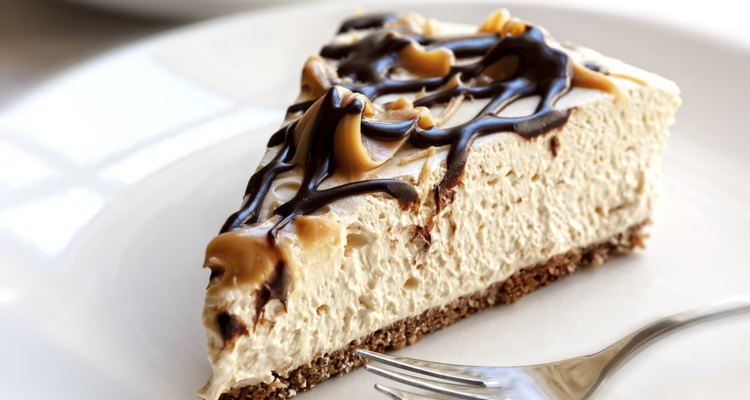 robynmac/iStock/Getty Images
Crushed graham crackers are the most common base for a cheesecake crust, but they are far from your only option. Graham crackers pair well with the taste of a creamy cheesecake, but other grain ingredients may actually taste better with your favorite flavored cheesecake. The trick to a tasty cheesecake crust is to combine the right ratio of grains with sugar and butter to create a crust that is the consistency of wet sand and can be pressed into a cheesecake pan without falling apart. Try something new next time you prepare a cheesecake and you may never go back to plain old graham crackers.
Preheat your oven to 375 degrees Fahrenheit.
Mix cookie crumbs, sugar and butter in a medium-sized bowl using a wooden spoon.
Transfer the cookie-crumb mixture to your cake pan or pie tin.
Press the crust into the cake pan or pie tin using your fingers. Cover the entire bottom and the sides of your cake pan or pie tin.
Bake your cookie crust for 10 minutes.
Remove the crust from the oven and cool it completely on a wire rack before filling it.
References
"Good Housekeeping Great Baking"; Good Housekeeping; 2006
"The Ultimate Cheesecake Cookbook"; Joey Reynolds and Myra Chanin; 2001
Writer Bio
Sara Ipatenco has taught writing, health and nutrition. She started writing in 2007 and has been published in Teaching Tolerance magazine. Ipatenco holds a bachelor's degree and a master's degree in education, both from the University of Denver.
Photo Credits
robynmac/iStock/Getty Images