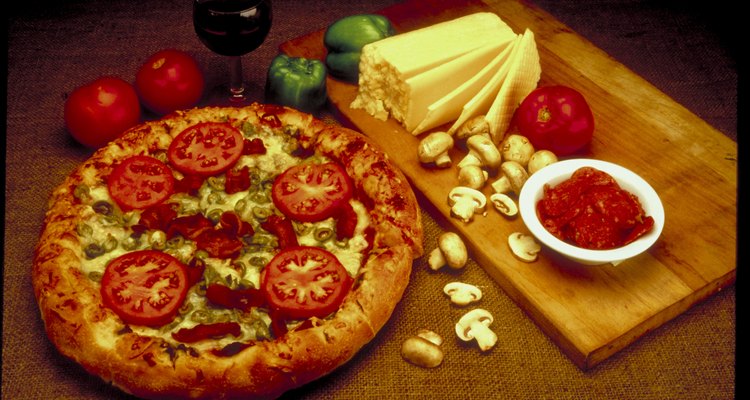 Ablestock.com/AbleStock.com/Getty Images
Forget take-out or delivery pizza. If you can make a batch of cookies, you can make pizza at home -- from scratch. Start with a simple yeast dough made from water, yeast, olive oil, flour and salt. Add your favorite toppings, such as pizza sauce, cheese, basil, sausage, tomatoes and peppers, and bake the pie in a hot oven for 12 to 15 minutes. From start to finish, the whole process takes less than one hour.
Lay the pastry cloth on the counter. Pastry cloths are made from fabric or plastic and often have circles printed directly on them to aid you in rolling out pizzas or pie crusts. Although a pastry cloth isn't absolutely necessary, it can be washed in the sink or laundry and minimizes messy cleanups on the countertops. Look for a pastry cloth at your local home store.
Rub the cornmeal or flour over the pastry cloth and the rolling pin to keep the dough from sticking. Press down on the dough with the rolling pin, gently rolling it out with a back and forth motion. Turn the pizza dough slightly from time to time to ensure an evenly rolled out crust. How thick you roll it depends largely on your preference. For a thin crust, roll it no thicker than 1/8-inch thick. For a thicker crust, roll the dough 1/4-inch thick.
Gently stretch the dough with your fingers if some areas are thicker than others. Fold the dough in half to transfer it to a greased baking sheet or pizza stone. Unfold it and smooth it out so it fits the stone or baking sheet.
Preheat the oven to 425 degrees F. Finish the pizza with your favorite toppings and bake it until the cheese is golden and bubbly, and the crust is brown. Lift the pizza up slightly to check that the bottom of the crust is done, as well.
References
"Essentials of Baking"; Williams-Sonoma; 2003
"Barefoot Contessa Parties"; Ina Garten; 2001
Resources
Tips
Once you've made the dough, let it rise for 20 to 30 minutes. Punch it down and let it rest for five additional minutes, which will make it easier to roll out.
Writer Bio
Julie Christensen is a food writer, caterer, and mom-chef. She's the creator of MarmaladeMom.org, dedicated to family fun and delicious food, and released a book titled "More Than Pot Roast: Fast, Fresh Slow Cooker Recipes."
Photo Credits
Ablestock.com/AbleStock.com/Getty Images