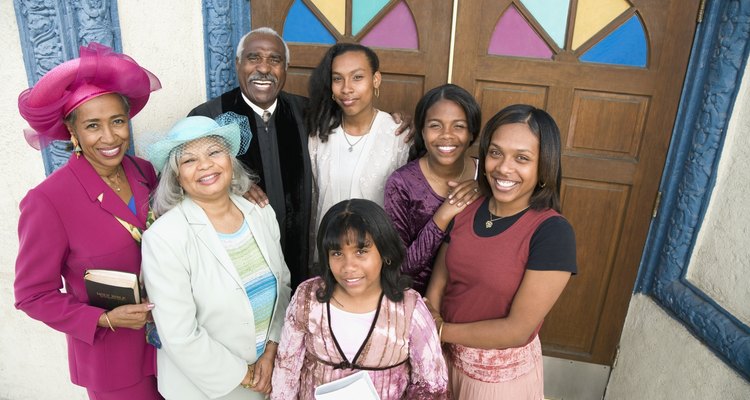 Hill Street Studios/Walter Jimenez/Blend Images/Getty Images
Ladies days are fun opportunities to meet as a group of women and study God's word. Before choosing your topic, determine what biblical topic you want to address in your gathering, and plan the theme around it with decorations and key Bible verses that accentuate the theme. Use the themes for a singular ladies' day function or in conjunction with a bigger church gathering.
Christ My Anchor
Show the hope that is in you with the "Christ My Anchor" nautical theme. The ancient symbol Christians used for hope was the anchor. The image can be found in catacombs and other early Christian art. The image was important to early Christians because it reminded them that they had hope in Christ. Use the phrase found in Hebrews 6:19 that states, "Which hope we have as an anchor of the soul, both sure and steadfast" for the theme verse. Decorate the eating area with blue or white table cloths. Use lighthouses, flowers and seashells for the centerpieces. Drape the pulpit behind the speaker with a large fishing net, life preservers and anchors. Tie colorful glass floats and starfish onto the net. Serve clam chowder or seafood salad for the meal. Give each guest a small seashell to remember the event.
Diamonds in the Rough
Bring out the sparkle with the "Diamonds in the Rough Ladies' Day" theme. Use this theme to celebrate how important women are, and to remind attendees that they are children of light -- as Christians they shine like a diamonds. Select Ephesians 5:8, which reads "For ye were sometimes darkness, but now are ye light in the Lord: walks as children of light" for the theme Scripture. Create a table display with a Bible centered on the table. Place decorative jewelry boxes to the left and right of the Bible. Add beaded silver garland, plastic gemstones and costume jewelry to the display. Use black or white table cloths for the tables, and a square of silver sequined fabric in the middle of the tables. Center black velvet jewelry forms on the table and add a piece of costume jewelry to each form. Serve diamond-shaped sandwiches or salads in glass bowls. Give each guest a candy ring for a takeaway or an inexpensive rhinestone bracelet.
Seeking Spiritual Beauty
Help women see the beauty deep within themselves with a "Seeking Spiritual Beauty" theme. Use the virtuous woman passage in Proverbs 31:10-31 as the theme text, but concentrate on Proverbs 31:30 which states, "Favour is deceitful, and beauty is vain: but a woman that feareth the Lord, she shall be praised." Study the passage in Proverbs, and read Sheila K. Butt's book Seeking Spiritual Beauty before planning your ladies' day. Remind women that the things most important in their lives are not the outward appearances, but the things of the heart. Teach them that God knows the heart and Christian women are beautiful from the inside out. Select motivational speakers who have experience with this topic. The speaker doesn't need to be a beauty queen -- she can be someone who has realized that inner beauty is what is most important, or someone who has struggled with vanity and overcame it. Use white table cloths and simple floral centerpieces. Select flowers that are in season. Scatter lipstick or makeup samples across the tables and encourage the guests to take some home. Give each guest a compact mirror or a hand mirror. Encourage each woman to find something she thinks is beautiful in her face, but help her to see her true internal beauty. Serve finger foods.
The Woman Behind the Mask
Celebrate being a woman with "The Woman Behind the Mask" theme. Use this theme to teach that women are much more than mothers, wives or working women. Use the biblical example of Deborah for the ladies' day event. Discuss important points about Deborah's life as found in Judah 4-5. Point out that Deborah was a wife, a warrior, a faithful follower of God and a judge of Israel. Decorate the room with colorful silks and Mardi Gras masks. Use colorful flowers and feathers for the tables' centerpieces. Serve red rice and beans or other Cajun dishes. Encourage guests to decorate their own Mardi Gras masks as take home gifts.
References
Writer Bio
Susan Elliott teaches studio art and creative writing to home schooled students. She is a graduate of Northwest Arkansas Community College and the Memphis School of Preaching Student Wives Program. She has written for Christian Woman Magazine and Virtuous Magazine. When she's not writing, she is painting or making costumes.
Photo Credits
Hill Street Studios/Walter Jimenez/Blend Images/Getty Images