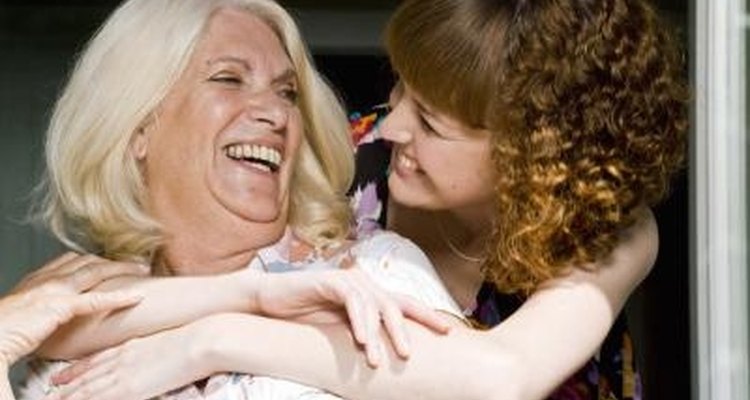 Jupiterimages/BananaStock/Getty Images
The first anniversary of your mother's death is a time to celebrate her life and reflect on the pain you have slowly moved past in the last year. The Bible says that the Lord is near to those who are brokenhearted. For centuries, people have looked to the Bible for comfort, peace, joy and encouragement. The verses found in Scripture promise hope and a home in heaven for those who trust in God.
Heaven
The Bible promises a home in heaven for those who know God. Focus on verses that mention that your mom is in heaven and that you will see her again. This will help the pain seem temporary. The verse 2 Corinthians 5:1 says,"For we know that when this earthly tent we live in is taken down (that is, when we die and leave this earthly body), we will have a house in heaven, an eternal body made for us by God himself and not by human hands." The Book of Revelation is also filled with verses about believers in heaven who serve the Lord and will one day return with him.
Joy
Focus on joy in the midst of your grief. The Bible speaks of joy that surpasses your feelings of sorrow over your mom's death. Psalm 30:11 says, "You turned my wailing into dancing; you removed my sackcloth and clothed me with joy." Psalm 126:5 says,"Those who sow in tears will reap with songs of joy." Tears are a natural part of grief, but the Lord promises to bring joy in place of tears and mourning. Focus more on her life than her death.
Peace
Focus on good memories, on moving past your mother's death and on the things she taught you and left behind. This will help you replace worry and grief with peace. Philippians 4:6-7 says, "Don't worry about anything; instead, pray about everything. Tell God what you need, and thank him for all he has done. Then you will experience God's peace, which exceeds anything we can understand. His peace will guard your hearts and minds as you live in Christ Jesus." The Bible teaches that prayer replaces worry and grief with peace.
Comfort
The Psalms are a source of encouragement and comfort in times of loss and trouble. Psalm 30:5b says, "Weeping may last through the night, but joy comes with the morning." The last year, you have probably cried, grieved, ached and longed to be with your mom. God promises that while these emotions are part of loss, they do not last forever. Psalm 34:18 says, "The Lord is close to the brokenhearted; he rescues those whose spirits are crushed." On this day, as you both remember and move on, find comfort that the Lord is close to you as you grieve.
References
Writer Bio
Kariss Lynch began her writing career in 2006. She has been published in the "Harbinger" journal, the Baptist Collegiate Ministry blog and she has a poetry book out through Poetry.com. Lynch has a Bachelor of Arts in English from Texas Tech University.
Photo Credits
Jupiterimages/BananaStock/Getty Images