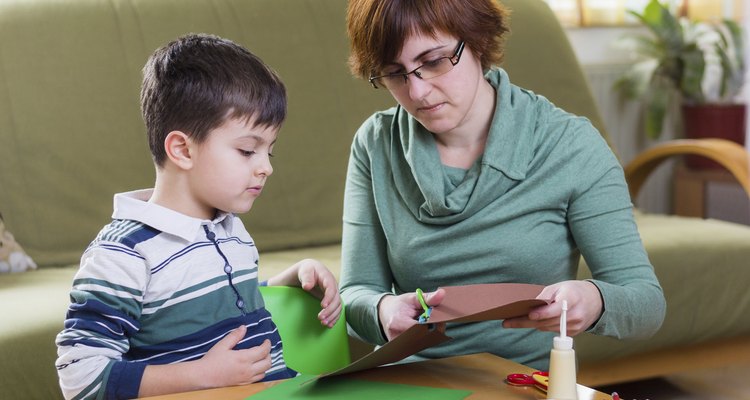 solevnikola/iStock/Getty Images
The story of how Jesus prayed in the Garden of Gethsemane is a biblical story you might want to teach your children around Easter. Using crafts can help these stories come alive to your children, but it can be difficult to find relevant crafts. Jesus brought his three closest friends to the garden to pray with him, but they fell asleep. Jesus felt immense sorrow because he knew he would be betrayed and crucified on the cross. Make crafts that depict the garden, prayer and angels.
Garden Prayer Jars
Give each child a glass jar, and let them use puff paints to draw a garden on the outside of the jar. Show your kids how to draw flowers, trees and garden animals. Tell them how Jesus went to the garden as a place of retreat so he could pray. Explain that we should also find quiet places to pray. Tell your children to keep the jar in their rooms to remind them to pray and that they can even write their prayers down and put them in the jar. After awhile, they can read the prayers and see which ones were answered.
Praying Hands Card
Give each child a piece of construction paper. Show your children how to fold it in half horizontally. Ask them to help each other trace their hands on the paper, with the thumb positioned directly on the fold. Cut around the outline of their handprints, and when the paper is unfolded, they will have a praying-hands card. Have your kids write "Jesus Prayed and So Do I" on the outside. Tell them that Jesus needed his disciples to pray for him. We all need people to pray for us when we're having a problem. Have your children choose someone who needs prayer, and write a note to that person inside the card.
Sunset Silhouettes
Cut silhouettes of Jesus praying, from black construction paper. Give each of your children two white pieces of construction paper, one positioned on top of the other and temporarily attached with tape at the top. Give your children sponges and inkpads in various sunset colors: yellow, orange, red and purple. Have each child tear a 2-inch strip off the bottom of top piece of paper, exposing the other piece underneath. Let them dab a sponge on an inkpad and then color the exposed portion of paper. Tear off another 2-inch strip off the bottom of the top piece of paper and let your children apply a different color to the exposed paper, blending the second color with the first. Continue until the whole paper is covered with sunset colors. Then glue the silhouette of Jesus onto the paper to remind them of how he prayed at night.
Angels of Encouragement
Make handprint angels to remind your children about how angels strengthened Jesus in the garden. Give each of them a piece of black construction paper and a white construction paper triangle. Have your kids use a foam brush to apply a layer of gold paint to the inside of their hands. Let them make two outward-facing handprints on the black paper to represent the angel's wings. Have them glue the white triangle (pointed side up) in the center of the hands to represent the angel's robe. Let them make one final thumbprint above the triangle tip to represent the angel's head.
References
Writer Bio
Michelle Watson has been an editor and freelance writer since 2010. She has edited hospital magazines around the United States and written on a variety of health-care topics. Watson is also a licensed high school English teacher. She holds a Bachelor of Arts in English and a teaching credential.
Photo Credits
solevnikola/iStock/Getty Images