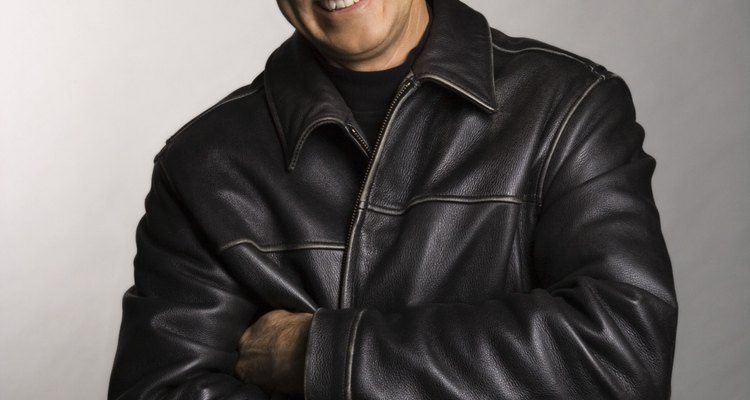 Jupiterimages/Comstock/Getty Images
It's important to clean leather clothing, particularly jackets, with some degree of regularity, as leather, which is a highly porous material, absorbs odors, pollution and dirt rather easily. While you can clean leather by purchasing a special cleaning agent made especially for leather, you can also cleanse and refresh it at home by using ingredients found around your house, including olive oil.
Dampen two soft cloths with lukewarm water. Make sure the cloths are just barely wet.
Pour three drops of gentle hand soap onto one cloth, and rub it in until it is well-combined. Alternatively, you can use 2 tbsp. white vinegar.
Pour 3 tbsp. olive oil onto the other damp cloth. Rub it in until olive oil saturates the cloth.
Rub the first cloth all along the surface area of the leather jacket, wiping away dirt. Follow immediately with the cloth dampened with olive oil. Repeat once.
Buff dry with a clean, soft cloth.
References
"Organic Housekeeping;" Ellen Sandbeck; 2006
Writer Bio
Lane Cummings is originally from New York City. She attended the High School of Performing Arts in dance before receiving her Bachelor of Arts in literature and her Master of Arts in Russian literature at the University of Chicago. She has lived in St. Petersburg, Russia, where she lectured and studied Russian. She began writing professionally in 2004 for the "St. Petersburg Times."
Photo Credits
Jupiterimages/Comstock/Getty Images