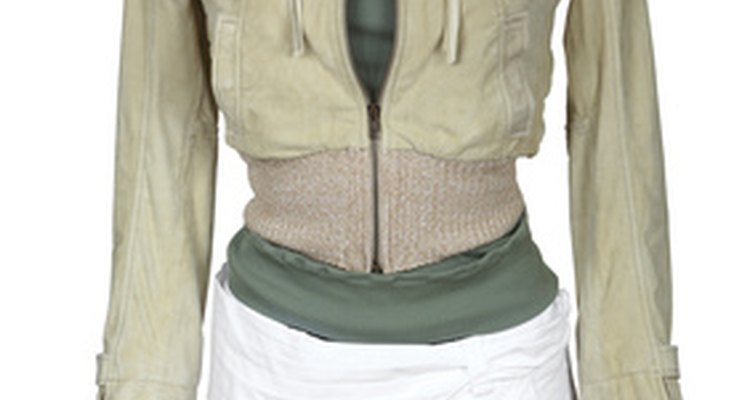 Leather jacket image by terex from <a href='http://www.fotolia.com'>Fotolia.com</a>
Properly cleaning a white leather jacket normally requires a professional cleaner. However, there are ways you can keep your jacket clean at home. If you get a stain on your jacket, it's a good idea to treat it as soon as possible. Not all stains can be removed, but you may be able to clean the leather with a few simple household products.
Gently squeeze a small strip of regular white toothpaste onto the stain. Rub it in lightly with a clean cloth. Gently rub it off. This method can work on all types of stains
Apply non-acetone nail polish remover to remove ink stains. Dab some onto a clean cloth and rub it gently onto the stained area of your jacket. Gently rub it off with the cloth.
Apply aerosol hairspray to a tough stain that isn't responding to the other two methods. Spray hairspray onto the stained area of the jacket. Wipe off the hairspray with a clean cloth. Repeat several times as needed.
References
Writer Bio
Amy Dombrower is a journalist and freelance writer living in Chicago. She worked in the newspaper industry for three years and enjoys writing about technology, health, paper crafts and life improvement. Some of her passions are graphic design, movies, music and fitness. Dombrower earned her Bachelor of Arts in journalism from The University of North Carolina at Chapel Hill.
Photo Credits