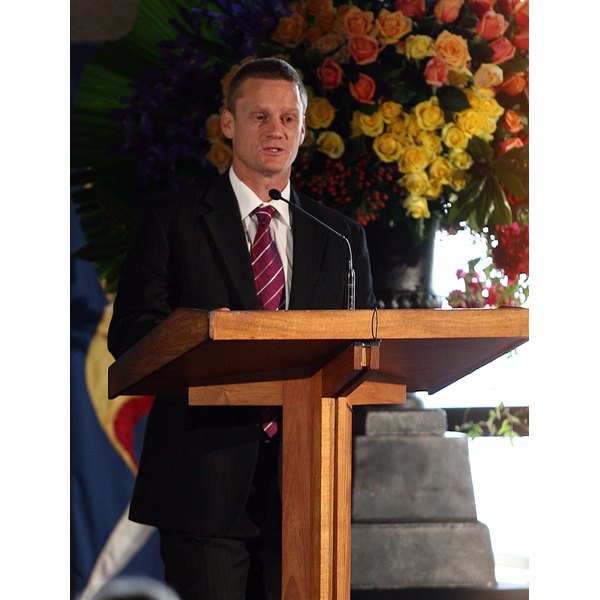 Being selected to speak at a memorial service is an honor. It is also a weighty responsibility. You'll need to balance speaking well of the deceased with not sounding falsely positive. Ensure that all topics you cover are appropriate and tasteful for a solemn ceremony. The audience will likely span three or more generations, including very young children, the elderly and everyone in between. This is not the best time to discuss a night of partying or the tattoo that nobody knows about. This is the time for messages with meaning, delivered in a respectful manner. Save the stories of craziness and debauchery for another time and another place.
Step 1
Dress appropriately. All eyes will be on the speaker, so you'll need to dress your best. Questionable attire will detract from the message and cause the wrong type of attention to be focused on you.
Step 2
Write your speech out ahead of time. It is not necessary to write and polish a complete speech before going up to speak, but having a basic outline ready is a sensible idea. It gives you the chance to consider what you want to say and to omit the things that might not be appropriate for a memorial service.
Step 3
Ask for help from friends or relatives if the words are difficult to come by. The goal is to speak well of the effect the deceased had on the lives of others. Express what the deceased taught you in particular about life.
Step 4
Open your speech by explaining your relationship to the deceased. Acknowledge everyone who attends the ceremony and offer condolences to family members.
Step 5
Practice ahead of time. Speak in front of a mirror to prepare. Watch for potentially distracting behaviors and identify moments when you may get choked up and prepare for them.
Step 6
Bring water to the podium. Speaking during a memorial service is an emotionally draining experience. Water will allow you to refresh your throat. Sipping will provide much-needed moments with which to regain full composure.
Step 7
Make eye contact with other mourners. Eye contact is generally good etiquette during speeches, but is especially important during a memorial service when the speaker is making an emotional connection to the audience.
Tips
Tell one or two stories illustrating the best qualities in the deceased. Speak of volunteerism, heroism and selflessness to unite mourners. Incorporate a neutral defining quality as well.
Warnings
Avoid trying to put an overly positive spin on negative qualities. If the deceased was a Scrooge, comments praising the deceased's financial prowess will be seen as hollow and possibly offensive.
Photo Credits
Paul Kane/Getty Images Sport/Getty Images