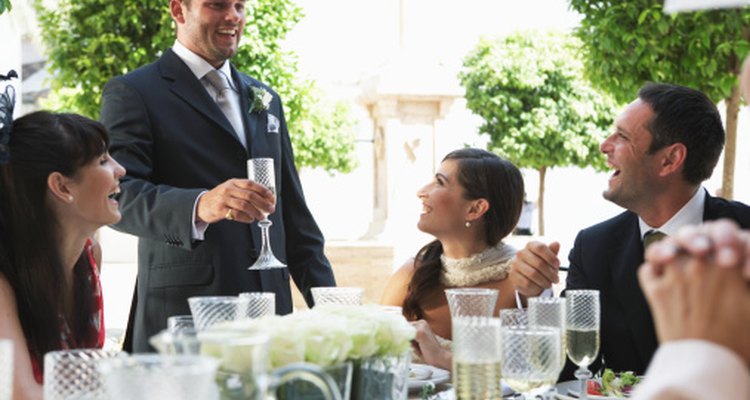 Maria Teijeiro/Photodisc/Getty Images
In addition to playing a significant role in the groom's life and having the responsibility of passing along the rings at the altar, tradition holds that the man of honor must deliver a speech at the wedding reception. Although delivering a man of honor or best man speech can be nerve-racking, there are certain steps you can take to help you adequately prepare for the speech.
Prepare for the speech. Start thinking about the speech at least one month in advance. Think about various happy, funny and sad moments you have had with the groom, and write notes about each of them. Think about a story you can tell about the bride and groom, such as the first time they met or a particularly funny moment.
Write the introduction. When writing the speech, it is nice to begin by thanking the parents of the bride and groom. Plan on showing your appreciation by toasting the parents, which is a classy move. Mention how long you have known the groom, and state how honored you are to be the man of honor at the wedding.
Write a story about you and the groom. Sharing a particularly fond memory can be a great way to break the ice with your audience. Refer to the notes you took when writing, and start writing the story in detail. Whether you decide to share a childhood memory or a recent event, ensure the story communicates why the groom is an important part of your life. Using humor is a great way to engage the crowd and keep them interested. Once you have written the story in detail, go back and create bullet points for each of the key parts of your story. You don't want to read line-by-line when delivering your speech; you should engage and interact with the audience instead.
Write a story about you, the bride and the groom or just the bride and the groom. Think about the first time you met, a funny story that involves the three of you or something positive the groom shared with you about his bride-to-be. It's okay to berate the groom a bit if he's your friend, but stay away from embarrassing stories about the bride. Again, once you've written a story, narrow it down to several bullet points you can refer to during your speech.
Write a conclusion. The last part of your speech should communicate how honored you are to be a part of the wedding. State how important your relationship with the groom is to you, and mention how happy you are for the couple. The speech should conclude by asking guests to raise their glasses in a toast to the bride and groom.
Photo Credits
Maria Teijeiro/Photodisc/Getty Images