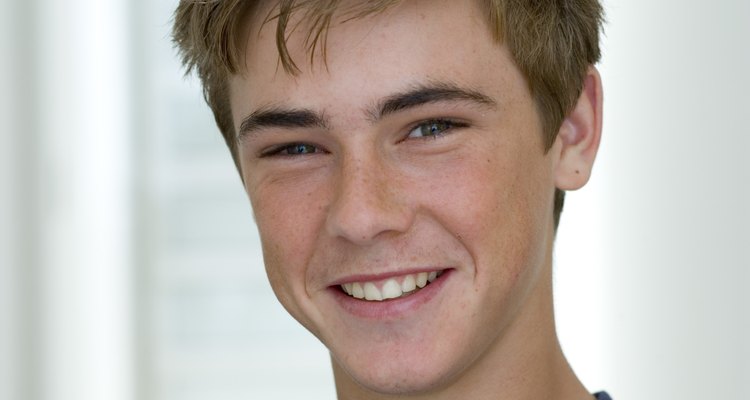 Jupiterimages/Pixland/Getty Images
Teenage boys who struggle with thin hair can easily thicken things up. There are a number of ways for a teenage boy to give himself a thicker, fuller head of hair. Simply use the right haircare products -- and make some healthy adjustments to your lifestyle -- and you'll be surprised at how quickly your hair becomes noticeably thicker. You can bid a long-overdue farewell to thin, lifeless hair before you know it.
Take the proper vitamins. If your hair is beginning to thin in your teens, this may be the result of a vitamin deficiency. Eat foods that contain plenty of vitamins A, B, C and E -- or take them in supplement form.
Condition your hair. Shampooing without conditioning is a common cause of thin, dried-out hair. By conditioning your hair, you instantly restore the essential oils that you stripped away when you shampooed.
Do not over-wash your hair. Excessive washing strips away your hair's natural oils, which are essential to healthy growth. Limit your shampoos to no more than once a day. If you have exceptionally dry hair, shampoo once every two to three days.
Have your hair cut or trimmed every six to eight weeks. This will give your hair a tidy appearance and stimulate new growth.
References
Writer Bio
Cameron Sherber has been writing professionally since 2010, and his comic strips appear regularly in "The High Plains Reader" and "The Huffington Post." He graduated from Carthage College with a B.A. in East Asian studies and Japanese language in 2006.
Photo Credits
Jupiterimages/Pixland/Getty Images