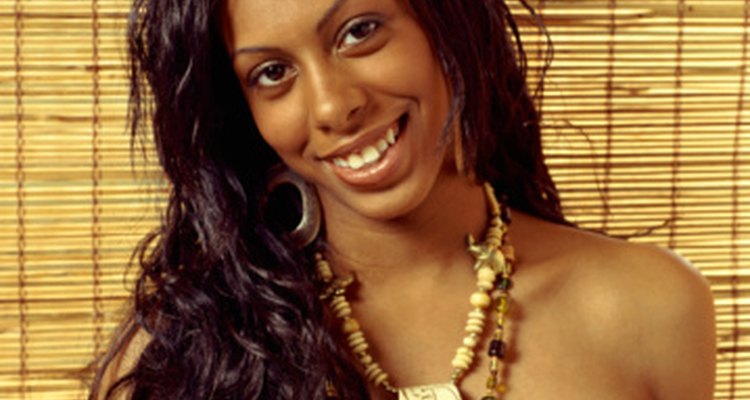 Creatas/Creatas/Getty Images
If you've gotten your hair weaved and it either started out a little thinner than you wanted or you've had it for a while and it's thinner due to shedding, you'll need to thicken it up. If you have a sew-in, this technique is super simple; however, depending on the fusion or bonding of your extensions without a sew-in, you may need to take a little more time to separate your tracks. With a few quick fixes, your hair can be as good as new.
Determine where your weave is thinning. Common reasons for thinning are shedding, especially if you've been brushing it excessively or you've chosen hair in which the tracks on the weft are loose. Remove a track or two of the old hair if the hair on the track is barely there. If your overall weave is thin and you need to beef it up with a little more hair, you can sew additional tracks on top of the others.
Add more hair to weave by sewing a few tracks on the sides from ear to ear and in the back a few inches above the last few tracks at the nape of your neck. If you're bonding your hair in with hair glue, add a few tracks in between tracks you already have by carefully separating each track, holding with a clip and gluing in a few new tracks. Double up the tracks to make up for the lost hair and add a thickness.
Cut hair in long layers. The layers will create a look of thickness especially when curled to give your style depth and shape. Use long layers for straight sleek styles and shorter choppy layers when you want a full rounded style.
Use a 2" barrel curling iron to curl the entire hair. Curl hair in multiple directions so there is no rhyme or reason with the curl pattern. This will thicken the hair as the curls will lie on top of each other as opposed to uniformly.
Pull layers apart with a rat tooth comb, a paddle brush, or your fingers. Use the comb if you want to maintain most of your curls; use the paddle brush to create wide, full waves. Use feathering technique by curling front, shorter layers, combing the layers back away from your face and pushing the hair forward toward your face and creating overlapping feathered bangs.
Tease the crown of your weave using a teasing comb or tight bristle brush. After teasing, use your comb to smooth hair over the teased area to add height to your look. Your overall look will be thicker with the teased, layered, and tousled style.
References
Writer Bio
Crystal Green is a marketing and event management consultant specializing in non-profit organizations and small businesses. Green spent the last seven years working for a statewide education association directing their trade publications, writing articles for programs' training teams and other event-related freelance projects. Green hold a Bachelor's degree in Journalism, and is currently working on advanced degrees.
Photo Credits
Creatas/Creatas/Getty Images