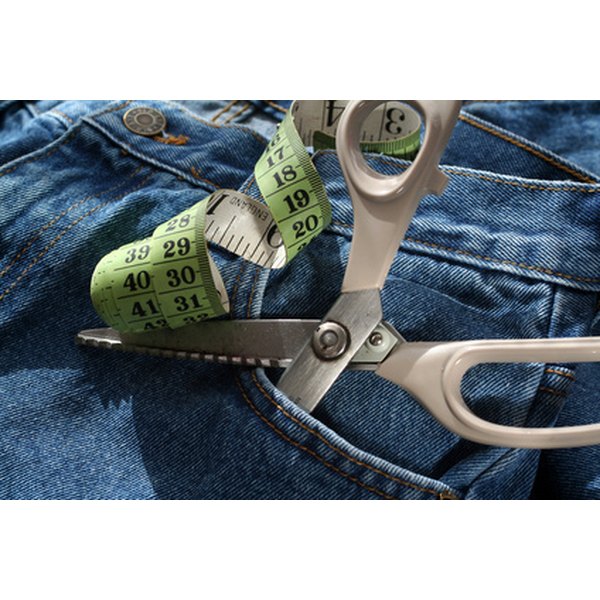 Few thing feel better against the skin than a pair of custom fit skinny jeans. Getting a snug cut that fits your curves can be achieved with endless hours of shopping or finding a tailor, but your best bet is to custom-make your own pair from scratch. Constructing your own skinny jeans can give you the fit you crave for a much lower cost than store-bought jeans. And, you won't have to worry about seeing anyone else wearing the same jeans as you.
Items you will need
Muslin
Denim fabric
Measuring tape
Thread
Sewing machine
Scissors
Zipper
Metal buttons
Metal rivets
Step 1
Measure yourself or have a friend assist you. Get measurements for your waist, inseam, and waist to ankle. You will also need the circumferences of your thigh, knee, upper calf and lower calf.
Step 2
Use the measurements to cut a pattern for your jeans into the muslin. Add an inch to your measurements for your seam. Safety-pin the muslin to your body to see if your pattern will give you the fit you desire. If you are happy with the fit, use the muslin pattern to cut your denim for the front and back of each leg.
Step 3
Load your chosen thread into the sewing machine and sew your denim together, being sure to sew with the fabric inside out. Sew one leg together, then the other, and connect the two by sewing them together from the back waistline to where the inseams meet, and then up the front to the bottom of your fly.
Step 4
Determine if you want the front closure to be zippered or buttoned. For a zipper, allow about an inch from the top of your jeans for a button, then attach the zipper to the inside of the denim. If buttons are your preference, space them about 3/4 of an inch apart. Cut adjacent button holes and sew the edges to prevent fraying.
Step 5
Try on your jeans and check out the fit in the mirror. If you are pleased, hem the bottom and top of your jeans and the fly. Add pockets, belt loops and metal rivets if desired. Rivets will enforce the durability of your pockets, or they can simply be added as a style element.
Tips
Check the symmetry of your work as you go. Also, denim that has Lycra blended in is going to give you the best body-hugging fit.
Warnings
Stitch any custom designs into your pockets before attaching them to your jeans. It is much less complicated to do it before rather than after they are sewn on since you will want to sew the design in from the interior side of the pocket.
"Rip It!: How to Deconstruct and Reconstruct the Clothes of Your Dreams"; Elissa K. Meyrich; 2006
"Let There Be Clothes"; Lynn Schnurnberger; 1991
Photo Credits
ciseaux mètre et jeans image by Claudio Calcagno from Fotolia.com