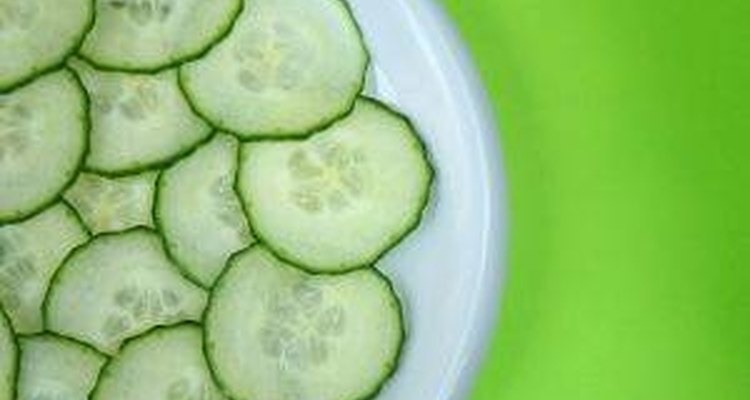 Steve Woods
Cucumber and carrot facial masks can be made at home using common kitchen ingredients. They are used to improve skin tone, reduce the appearance of aging, and balance oil production in the skin. This recipe should be prepared fresh and creates enough for two facial mask treatments. Any excess should be discarded if not used immediately.
Add one cup of fresh cream to a medium-sized mixing bowl. Stir with a whisk to lighten the cream before adding any other ingredients.
Add 2 to 4 tbsp. carrot juice to the cream and whisk again to blend. Use more or less depending on the thickness. Aim to preserve the creamy consistency of the fresh cream without allowing it becoming too runny.
Crush two to four slices of fresh, peeled cucumber with your hands, and add to the cream and carrot juice mixture. Whisk to combine. It's OK if the cucumber is a little bulky. It should be lightly crushed, not pureed.
Add the yolk of one egg to the mask if it is being prepared for dry skin or the whipped white of one egg if the mask is for oily skin. Whisk thoroughly to incorporate the egg into the cream.
To use, apply the cucumber and carrot facial mask directly onto the skin. Allow it to remain in place for approximately 15 to 20 minutes, and then rinse clean with warm water and a washcloth.
Writer Bio
Willow Sidhe is a freelance writer living in the beautiful Hot Springs, AR. She is a certified aromatherapist with a background in herbalism. She has extensive experience gardening, with a specialty in indoor plants and herbs. Sidhe's work has been published on numerous Web sites, including Gardenguides.com.
Photo Credits