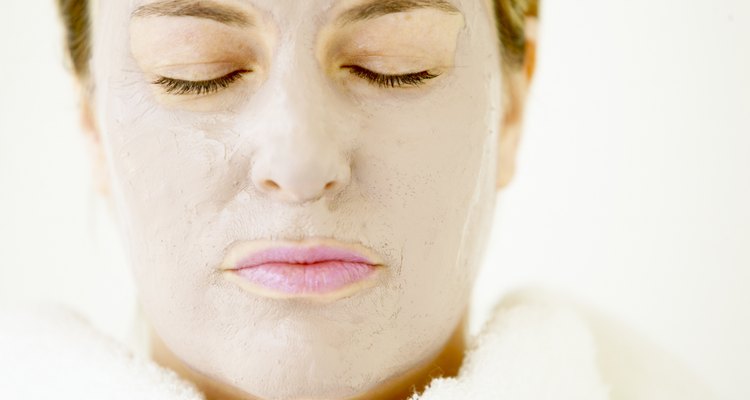 Photos.com/Photos.com/Getty Images
A thermoherb mask is a facial treatment option available from a spa or salon. The natural herbal ingredients in a thermoherb mask are designed to target fine wrinkles and provide a radiant glow to your skin. You can create your own variation of a thermoherb mask at home by with a few key ingredients used for anti-aging effects.
Measure out one cup of rice flour, oatmeal or ground almonds as the base ingredient for the facial mask. Run the mixture through a blender to reach a finer consistency, similar to white flour. Add it to a glass bowl.
Add two to four tablespoons of plain yogurt to the base powder and stir well to combine ingredients.
Add two to four drops of essential oil to help combat fine lines and wrinkles. Use lemon oil, rosewood, juniper berry or lime. All of provide detoxification, cell regeneration and clarifying properties that mimic the results achieved by a thermaherb mask.
Warm two to four tablespoons of pure honey in the microwave for 10 to 20 seconds in a microwave safe dish. Test the temperature of the honey by placing the end of your finger into it. Once warm, stir the honey in to the facial mask mixture and apply immediately to the face.
Leave the mask on for 30 minutes. Rinse with lukewarm water to remove it and wipe the excess mask off using a soft wash cloth. Rinse your face with cool water. Moisturize your face using your preferred facial moisturizer.
References
Photo Credits
Photos.com/Photos.com/Getty Images