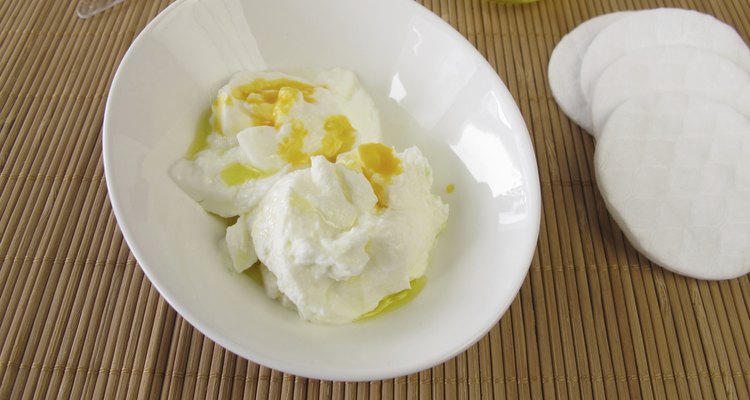 HeikeRau/iStock/Getty Images
Age spots are blemishes that surface on the skin due to excess melanin -- a direct consequence of sun exposure or artificial ultraviolet light. Although laser treatments are generally considered the most effective way to reduce age spots, many DIY-ers have used yogurt as a home remedy. As a spot treatment and a diet staple, it has some anti-aging benefits worth noting.
Say 'Yes' to Yogurt
Yogurt is rich in lactic acid, which lightens and exfoliates skin. Apply it directly to affected areas for 20 to 30 minutes or combine it with a powdered facial mask to increase the lightening effect. To create a natural, spot-busting bleach, Reader's Digest recommends blending one teaspoon of plain yogurt and 1 teaspoon of honey, applying it once a day for 30 minutes and rinsing afterward. As a bonus, honey has antibacterial benefits.
Preventive Measures to Take Against Age Spots
Allure recommends using gentle cleansers with microbeads rather than gritty facial scrubs, as skin irritation can cause increased melanin production and, consequently, more age spots. Wearing sunscreen on a daily basis is the easiest, tried-and-true preventive step you can take -- yogurt or any other remedy won't help if you overexpose yourself to the sun.
References
Writer Bio
A pop culture junkie, Italophile and chronic sufferer of the travel bug, Mary Gray is an arts, entertainment and travel writer. Based in Florence, Italy, she is the Tuscany news editor of "The Florentine" English newspaper, co-manages social media for an international tour operator, and has been published in Italian daily "La Repubblica."
Photo Credits
HeikeRau/iStock/Getty Images