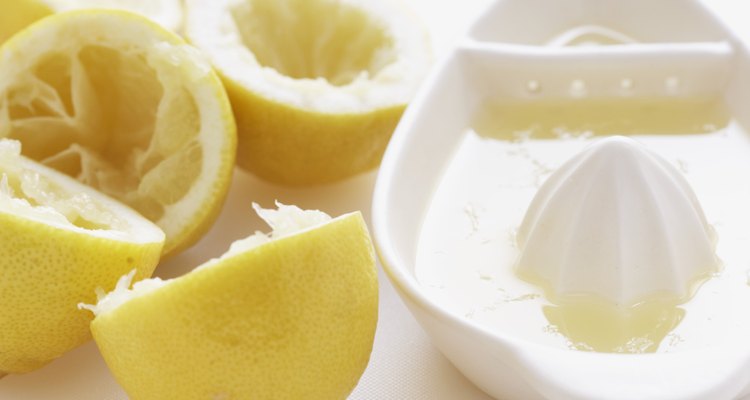 Martin Poole/Digital Vision/Getty Images
Although more typical in men, the growth of coarse, dark facial hair is an issue called hirsutism, and one that many women face. Waxing, plucking and shaving are temporary, sometimes painful, solutions to a problem that causes embarrassment for women. However, there is a safe, homemade alternative that will naturally reduce the appearance of unwanted facial hair without damaging your skin: a mixture of honey and lemon juice. Both ingredients are natural skin lighteners and will begin to bleach upper lip hair in a matter of minutes.
Combine 1 tablespoon honey and 1 tablespoon freshly squeezed lemon juice. Store-bought lemon juice is also acceptable, but the fresher juice is better. Don't use lemon juice featuring artificial sweeteners.
Mix the ingredients until a paste-like consistency is achieved, which might require adding more honey. Apply a thick layer of the honey and lemon juice paste directly to your upper lip.
Allow the mixture to remain on your upper lip for 20 to 25 minutes. Heat helps the lemon juice lighten your unwanted facial hair more effectively. If desired, sit out in the sun and allow the rays to hit your face, or aim a blowdryer set on a low or medium at your upper lip for five to seven minutes.
Dampen a washcloth with lukewarm water and wipe away the honey and lemon juice mixture. If your upper lip hair isn't lightened to your satisfaction, reapply a thick layer of the lemon and honey mixture and allow it to remain for 20 to 25 minutes.
References
Writer Bio
Residing in Chippewa Falls, Wis., Jaimie Zinski has been writing since 2009. Specializing in pop culture, film and television, her work appears on Star Reviews and various other websites. Zinski is pursuing a Bachelor of Arts in history at the University of Wisconsin.
Photo Credits
Martin Poole/Digital Vision/Getty Images