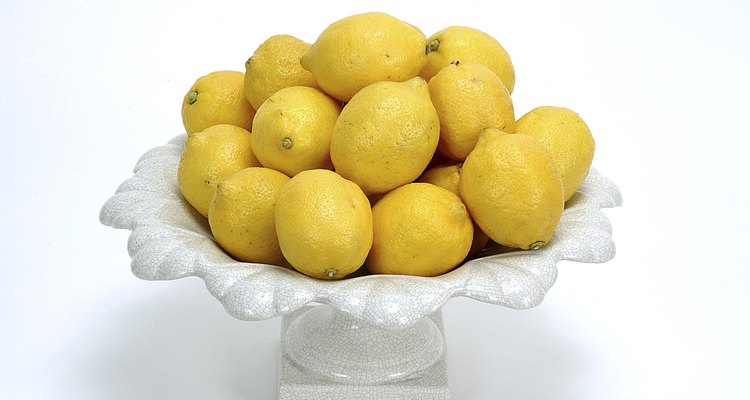 Photos.com/AbleStock.com/Getty Images
You make lemon curd somewhat like you would a custard by gently cooking fresh lemon juice, eggs, butter and sugar on the stovetop until it thickens. Somewhat pucker-inducing, lemon curd is delicious in shortbread and tarts or all by itself. Folding in a bit of whipped cream will produce a creamier treat and tone down the tartness, making it perfect for a light pie, mousse or summer parfait.
Step 1
Prepare the whipped cream by pouring chilled heavy cream into a mixing bowl. If your recipe calls for sweetened whipped cream, add sugar before mixing. Using the hand mixer, whip the cream until soft peaks form. To check for soft peaks, lift the beaters out of the cream. The little peaks of cream will start to bow over in the soft peak stage. Firmer peaks retain their shapes -- you don't want to reach this stage.
Step 2
Spoon your lemon curd into another second bowl. Gently fold in half of the whipped cream. To do this, scoop up a small amount of the cream with a large spoon or curved spatula and place it into the bowl with the lemon curd. To fold the mixture, put the spatula into the bowl again -- at the far end -- and gently bring it towards you. As you do so, make sure to scoop up some of the lemon curd with the whipped cream. Keep in mind that folding is a technique to gently incorporate one ingredient into another without over-mixing, as this can disrupt the texture of the dish.
Step 3
Add the remaining whipped cream and continue to fold until the lemon curd and whipped cream are fully combined. The goal is to maintain the airy texture of the whipped cream, which gentle folding will help ensure.
Step 4
Use the lemon mixture in your favorite recipe for pie, mousse or parfaits.
References
Resources
Writer Bio
An educator since 1998, Catherine Misener started her writing career in 2009. Her work has appeared in "NW Kids," "The Oregonian" and "Vancouver Family Magazine." She holds a Bachelor of Arts from St. Mary's University and a Master of Arts from the University of Michigan. After working in the food industry for years, she opened a small batch bakery.
Photo Credits
Photos.com/AbleStock.com/Getty Images