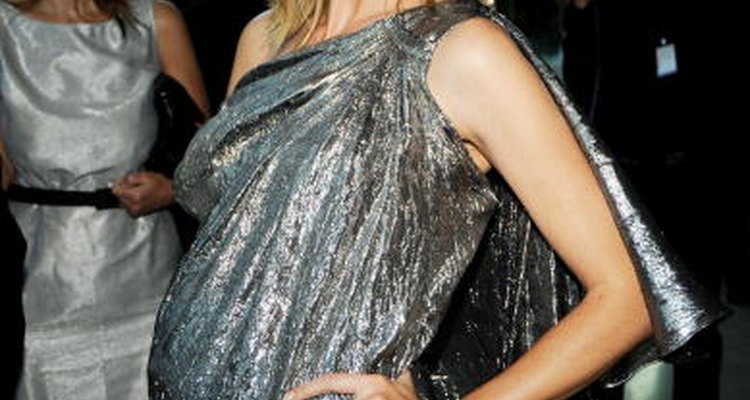 Larry Busacca/Getty Images Entertainment/Getty Images
Toga parties are a classic theme where guests come adorned in sheets wrapped and dressed up to look like people you might have seen back in the days of the Roman Empire. While togas are often droopy and formless for a woman, a sexy toga dress can add a little modern touch to your toga look, while showing off your shape and style.
Lay your bed sheet out flat and cut off a quarter of the sheet lengthwise. To make your dress form-fitting and sexy, you want to cut off excess fabric so that you don't have a bunch layered and hiding your figure.
Hang one end of the bed sheet over your left shoulder. It should drape down stopping just above the small of your back with the rest of the sheet hanging across your torso.
Wrap the sheet around your upper torso just below your bra line. Wrap fabric over the piece of sheet draped down your back to secure that end to your body. Wrap it around once pulling it back to the front.
Wrap the fabric again over the first wrap but slightly lower. Continue wrapping until the fabric is about mid-thigh (shorter or longer if you prefer). Tuck the other end of your fabric into the top of the fabric in the back as you would a towel.
References
Tips
For added security, safety pin each wrap at your side and pin the tucked fabric in the back. You could also pin the first wrap across your front to your undergarment or wear a tube top or spaghetti strap shirt underneath in case of a fabric slip.
To add sexiness and style, go for an updated look using colorful patterned sheets or try satin sheets in a solid color such as a velvet red or deep purple.
Pair your dress with some sexy accessories including high heels and sparkling earrings. A cute belt around the waist makes the dress more form-fitting.
Apply some sexy makeup with dramatic smoky eyes and red lips.
Use a larger sheet or don't cut your queen-sized sheet. Drape the fabric, letting it hang in long dress fashion. Cut a daring slit in it once pinned to add some sex appeal.
Writer Bio
Amy Davidson is a graduate from the University of Florida in Gainesville, with a bachelor's degree in journalism. She also writes for local papers around Gainesville doing articles on local events and news.
Photo Credits
Larry Busacca/Getty Images Entertainment/Getty Images