Items you will need
Ribbon
Small wired sticks or pieces of florist wire
Bouquet holder (optional)
Wire cutters
Scissors
Years ago the ribbons and bows from bridal shower gifts were gathered and stuck to a decorative paper plate from the food table. This work of art was saved and handed to the maid of honor at the wedding rehearsal. She would carry it when she stood in for the bride at the altar. Today the bride stands in her own place, and she often carries a ribbon bouquet. The main purpose for the ribbon bouquet is for the bride and her attendant to learn how to handle the wedding bouquet. The ribbon bouquet can be made ahead and stored for the rehearsal. Make several, and you can use them as bridesmaid bouquets in a budget-friendly wedding.
Step 1
Cut a 6-inch piece of florist wire. Pull several inches of ribbon from a spool. Hold the ribbon between your thumb and forefinger 5 to 6 inches from the end.
Step 2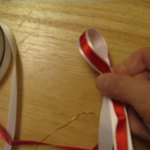 Form a 3-inch to 4-inch loop, and hold it between your thumb and forefinger.
Step 3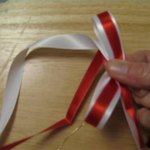 Twist the ribbon and form a loop on the opposite side of the first loop.
Step 4
Twist the ribbon sharply and continue forming the loops. Make 3 to 5 loops on each side of the bow.
Step 5
Place the center of the wire piece over the center of the bow. Wrap the wire tightly around the center of the bow 2 to 3 times.
Step 6
Bring the wire ends down and wrap one around the other to create a stem. You can wrap the "stems" of 3 to 6 bows with floral tape, for a simple ribbon bouquet.
Step 7
If you use a bouquet holder with foam, make 8 to 12 bows. Substitute wired sticks in place of wire pieces when finishing your bows.
Step 8
Place the handle of the bouquet holder into an empty vase to hold it in place while you're working.
Step 9
Insert the stick from one wired bow into the center of the bouquet holder's foam.
Step 10
Add 3 bows around the first bow at equal distances.
Step 11
Add in the remaining bows to the sides of the foam. Look at the bouquet in a mirror to see that it is filled in evenly. Add more bows as needed.
Tips
Use two bow colors for a different effect. Combine two satin ribbons together in a bow, as shown in the photos, for a more elegant bow.
Warnings
Secure bow centers well to keep them intact.