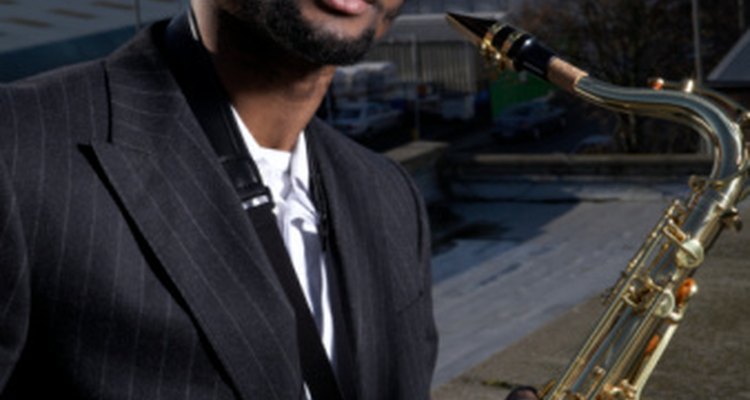 Polka Dot RF/Polka Dot/Getty Images
Maintaining a male Afro requires daily attention and special hair care. Black male hair produces an insufficient amount of sebum, the natural oil produced by the body to lubricate the hair. The result is that black male hair is exceptionally dry. Caring for an Afro demands particular grooming processes -- from the shower to brushing -- to ensure successful maintenance.
Mix together 1 tsp. water with 1 cup of warm water in a small bowl.
Drench your hair with the mixture and rub it thoroughly through your hair.
Rinse the mixture out with warm water. Repeat this process once every 21 days. Do not wash your Afro in between this cycle. The mixture cleanses the hair properly without resorting to traditional daily or weekly shampoos that can damage black male hair.
Brush your hair from the tip ends of the hair using a blunted bristle brush. Brush downward toward the scalp. Continue until the entire head of hair is brushed. Brush only once every seven days. Loosen and arrange hair with your fingers on other days to avoid damage or breakage of hair follicles.
Tie a sleeping cap -- or du-rag -- over your head before sleeping. Sleeping caps keep hair in place.
Cover your pillows with satin pillow cases, which prevent absorption of hair moisture.
References
Writer Bio
Jeffery Keilholtz began writing in 2002. He has worked professionally in the humanities and social sciences and is an expert in dramatic arts and professional politics. Keilholtz is published in publications such as Raw Story and Z-Magazine, and also pens political commentary under a pseudonym, Maryann Mann. He holds a dual Associate of Arts in psychology and sociology from Frederick Community College.
Photo Credits
Polka Dot RF/Polka Dot/Getty Images