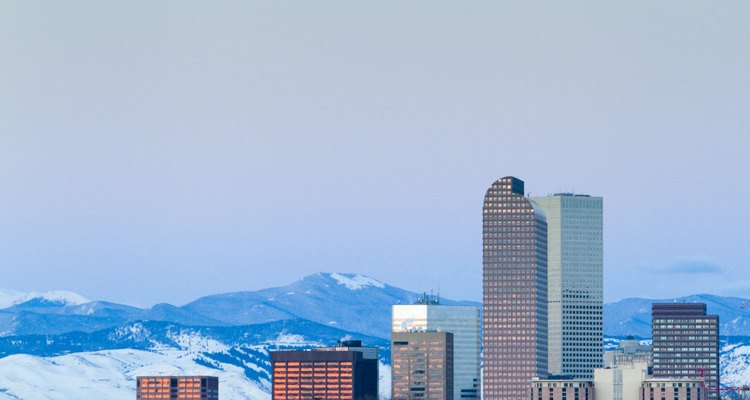 arinahabich/iStock/Getty Images
Those who live in Colorado know you have to be prepared for the weather to shift in an instant. Wear multiple layers that keep you warm during a morning snowstorm, but allow you to strip down as the day turns bright, sunny and warm later in the afternoon. Where you are in Colorado also dictates what you wear in the winter. Higher elevations are more likely to experience snowy and icy conditions, which bring along additional clothing needs. No matter what the temperature or where you are in the state, if the sun is out, don't forget your sunglasses.
Weather Basics
Colorado's average winter temperatures vary widely depending where in the state you happen to be. Mountain towns, such as Aspen, experience an average high temperature of about 33 degrees in the deep winter months of December, January and February, while areas with elevations below 6,000 feet, including Denver, experience an average high of about 45 degrees. The generally low humidity, which averages 33 percent, means you won't feel the same bone-chilling cold you do in more moist climates. You're likely to encounter snow at higher elevations and in the mountains. Ski resorts get as much as 300 inches yearly, reports the official Colorado website.
Dealing With Extremes
Layers are the key to dealing with the extreme temperature swings you may experience on any one winter day in Colorado. If you're hiking, you're even more likely to encounter these swings as you move up in elevation. A T-shirt covered by a sweatshirt or sweater and topped off with a waterproof jacket or parka will carry you through just about any Colorado winter day. Depending on your plans and the morning temperatures, you may choose to layer long underwear under your jeans or khakis. If you're headed to the slopes, wear long underwear under your snow pants for early morning runs, but be prepared to peel the under-layer off later in the afternoon -- temperatures can soar up into the 70s at ski areas on some winter days.
Functional Footwear
Coloradans tend to favor comfort and function over fashion. In the winter, you'll need a pair of waterproof boots and warm ski slippers if you'll be spending any time in a lodge. You'll never go wrong with hiking boots, athletic shoes and casual sporty footwear. If you plan to hike or run on the ice and snow, consider investing in special traction devices that you affix to your shoes to prevent slipping. Wool socks are essential for wicking moisture and to keep you warm, and nylon sock liners add another layer.
Heading Out
Winter work clothes in Colorado are similar to those worn throughout the country. When your day consists of moving from a climate-controlled car to a climate-controlled building, dealing with the elements isn't too much of an issue. For nights out, Coloradans tend to dress casually. Function almost always trumps fashion -- you'll always fit right in if you're wearing a pair of jeans. Temperatures tend to drop significantly during winter evenings, so always be prepared with an extra sweater or ski jacket and gloves if you're heading out on the town.
References
Writer Bio
Andrea Cespedes is a professionally trained chef who has focused studies in nutrition. With more than 20 years of experience in the fitness industry, she coaches cycling and running and teaches Pilates and yoga. She is an American Council on Exercise-certified personal trainer, RYT-200 and has degrees from Princeton and Columbia University.
Photo Credits
arinahabich/iStock/Getty Images