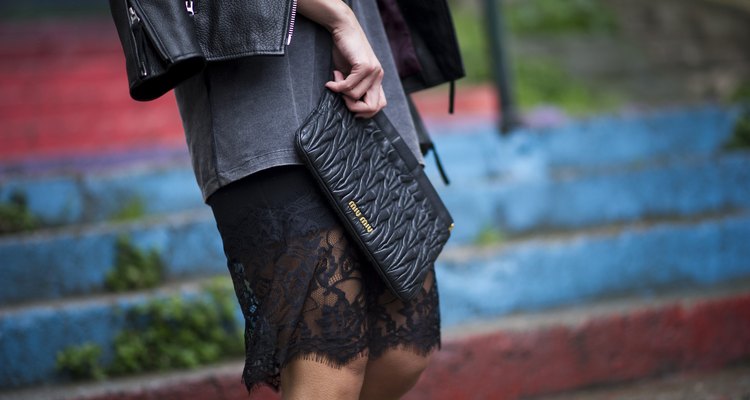 Timur Emek/Getty Images Entertainment/Getty Images
Albert Einstein was considered fashion unconscious: It was said of the physicist's bohemian attire that "one leather jacket solves the coat problem for many years." But for the rest of us, there are so many choices it's possible to have a wardrobe of coats of many colors, fabrics and functions. Narrow it down according to when you want to wear your jacket, how warm you need it to keep you -- and whether you're going for practical or purely stylish. If it's colder than cold, you can dress up even the bulkiest, puffiest jacket with colorful accessories.
Old-School Favorites: Denim, Cotton, Wool
For layering or warm-weather winters, denim, cotton and its blends are washable, wearable and timeless. Wool is one of the oldest winter outerwear choices. It's classic, warm and a good choice for the workplace, dressier occasions and any time you don't want the puffy-coat look. Try cashmere for a luxe -- albeit expensive -- wool upgrade. Polyester or cotton blends often are waterproof, good choices for drizzly days.
Animal Attraction: Leather and Fur
Leather and fur have been around even longer than wool. Leather is durable, and fur is luxurious and warm. Both are expensive, however, and neither is what you'd want to wear during cold-weather outdoor activities. They're not waterproof and don't move with the body for sports. Save these -- and their synthetic versions -- to make a fashion statement.
Layering for the Cold: Down and Fiber-Filled
When temperatures plummet, you probably are going to want a puffy coat. Either down or synthetic fill in a nylon or polyester shell will keep you warm; look for a water-repellent down or synthetic coat if you're going to get wet in the snow or sleet. Fleece works to take the chill off when you're hiking or doing something else active -- it's not as warm, REI says, but puffy coats are best for just moderate activity. If it's windy, though, the chill will cut through fleece more than a puffy filled jacket.
Science Takes on the Challenge: New Fabrics
If you're looking for a high-performance jacket to meet the challenge of cold-weather outdoor sports, science has some new tricks up its outerwear sleeves. Hard-shell fabrics are more waterproof than most, for when you're really challenging the elements. Soft-shell coats offer less water protection but are more breathable and let you move more freely. Hybrids claim to offer the best of both.
References
Writer Bio
Bonny Brown Jones has been a writer, columnist, copy editor and senior copy editor for newspapers that have included the "Orlando Sentinel," "Miami Herald" and "Columbus (Ohio) Dispatch." Jones has a Bachelor of Arts in English from Ohio State University.
Photo Credits
Timur Emek/Getty Images Entertainment/Getty Images