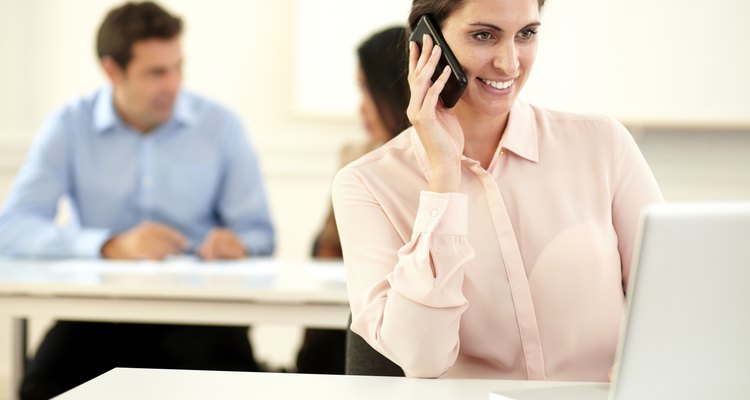 pablocalvog/iStock/Getty Images
Pinpoint cotton belongs to the oxford family of cotton fabrics. Oxford cottons have a soft texture and a "basket-weave" appearance. Pinpoint cotton has an especially lightweight feel and a fine texture. Clothing manufacturers often use pinpoint cotton to make men's dress shirts.
Fabric History
Oxford cotton fabrics were first manufactured in the late 19th century by a Scottish mill. The mill originally manufactured oxford cotton as a group of four cottons named after four universities: Oxford, Cambridge, Harvard and Yale. Of these original four fabrics, only oxford cotton is still commercially produced.
Cotton Characteristics
Cotton fabrics are classified according to their "weight," which describes the quality of the thread used to make the fabric. A high weight fabric consists of finer quality thread, resulting in a finer quality of fabric. At 80s weight, pinpoint oxford fabric has a lighter and softer texture than basic 40s weight oxford fabric. Manufacturers create oxford fabric by weaving two thin yarns into a thicker yarn running in the other direction. To create colored and patterned oxford shirts, manufacturers dye the threads running in one direction and leave the other threads white, resulting in a basket-weave textured appearance.
Pinpoint Types
Most pinpoint oxford fabrics consist of 100 percent cotton. The cotton gives the fabric a soft feel and makes the fabric more comfortable to wear, thanks to cotton's breathability. The soft, fine texture makes it the preferred fabric for fine dress shirts. Manufacturers introduced blended pinpoint fabric as an alternative to 100 percent cotton pinpoint. Blended pinpoint fabric often consists of 60 percent cotton and 40 percent polyester, although the ratio of materials can vary. While cotton fabrics have a comfortable texture and absorbent qualities, polyester is stronger and resists shrinking and stretching. polyester fabric also resists wrinkles. However, because it does not absorb moisture, a 100 percent polyester fabric does not "breathe" well. Cotton and polyester blends combine the comfort of cotton with the durability of polyester. The wrinkle resistant properties of blended pinpoint fabrics make them a practical choice for dress shirts.
Common Uses
Pinpoint cotton is commonly used to manufacture men's dress shirts, as well as women's blouses and shirts. Pinpoint cotton is also used to make bedsheets and other bed linens.
Correct Care
Pinpoint cotton fabric can be machine washed. Dress shirts can be ironed and steamed at home. However, many people choose to dry clean their pinpoint cotton dress shirts to give them the neat appearance that comes from being professionally pressed and ironed.
Writer Bio
Stacey Howell has a bachelor's degree in English and media studies from the University of California, Berkeley. She currently works as a writer in New York City, and has covered fashion for various blogs and publications, including "BARE" and "Twenty6 Magazine."
Photo Credits
pablocalvog/iStock/Getty Images