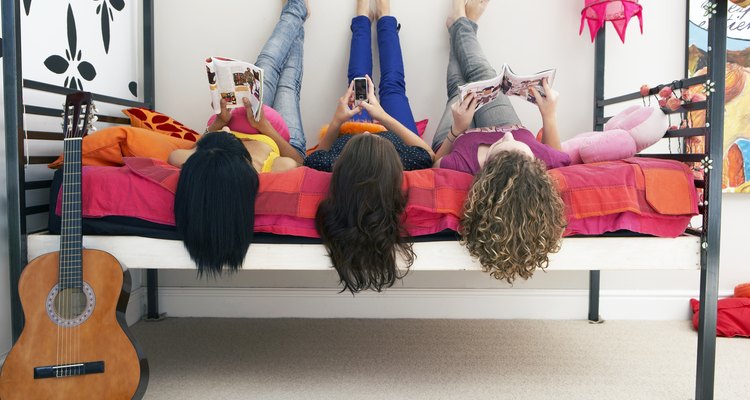 Goodshoot RF/Goodshoot/Getty Images
Pure denim, originally worn as workers pants, differs significantly from denim blends in texture and structure. One kind of pure denim, known as selvage denim, is marketed as a premium material in designer jeans. Other kinds of denim are mixed with synthetic or natural fibers to be stretchier, lighter weight and less wrinkly. The softer and lighter construction of denim blends make them a suitable fabric for dressy clothing.
Raw Denim
Raw denim is made from 100 percent cotton serge that hasn't been washed after being dyed, so it retains an all-over dark blue hue. Other types of denim are washed and processed to have special stains, washes and fades, but raw denim is valued for its monochromatic, natural look. Over time, with more wear, raw denim will fade and gain distress marks. Because it's unprocessed, raw denim may feel stiff and rough at first. Wear the denim consistently to slowly stretch the rigid material to your body shape.
Premium Denims
Selvage denim is a type of raw denim made from a special manufacturing technique. A cross-thread weaves back and forth through the fabric on a traditional loom as one continuous strand, resulting in a clean, smooth edge. Selvage denim is then dyed with real indigo, instead of synthetic substitutes found in other denims. This particular care for detail and craftsmanship boosts the value of selvage denim as a premium material. Organic denim also tends to cost more, because it contains cotton grown and harvested without pesticides or fertilizers.
Ramie Denim Blend
Ramie, a plant fiber, is often added to cotton to create stronger denim blends. Ramie doesn't shrink or lose its shape when wet and becomes smoother after several washes; combining it with cotton creates a fabric that is both flexible and strong. Ramie is a brittle material, but it remains resistant to mildew and sun damage. Its fibers add a silky luster to denim.
Other Denim Blends
Denim can be blended with a variety of other materials. Stretch denim is the blend closest to pure denim, containing about two to three percent spandex, the rest being cotton. The slightly elastic blend is more forgiving around the thighs for fitted jeans. Some denims are half cotton, half polyester, a durable and shrink-resistant fabric. Polyester dries faster and retains dyes better than cotton after repeated washes. Tencel, a type of fiber, can also be woven with cotton to create more absorbent clothing.
References
Writer Bio
Dominique Fong has served as a community reporter for "The Oregonian," a daily newspaper based in Portland, Ore., and contributed to "Angeleno Magazine" and the "Los Angeles Business Journal." Fong holds bachelor's degrees in print journalism and political science.
Photo Credits
Goodshoot RF/Goodshoot/Getty Images