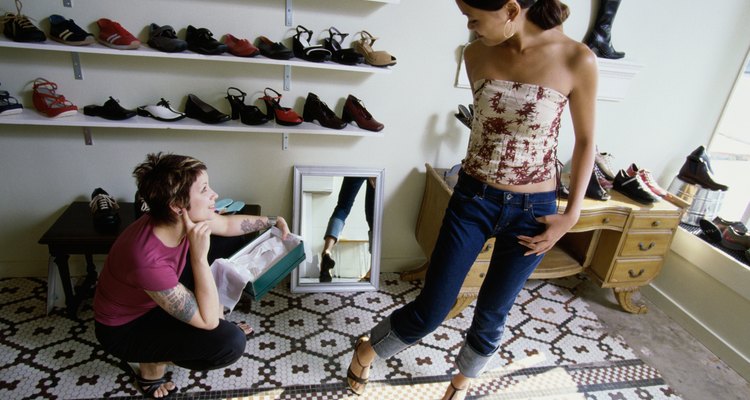 Purestock/Purestock/Getty Images
If you're tired of feeling like your jeans are hugging your legs like a pair of leggings, don't lose hope -- you can find jeans without spandex. However, because spandex helps your jeans keep their shape, you may also want to think about spandex-included options that work better than the denim you've been sporting lately. From silhouettes to styling to fabrication, when it comes to jeans, you always have tons of options.
Raw Denim
When you purchase a pair of jeans at a store, you are typically purchasing pre-washed denim that has already been shrunk. In addition, this pre-washing removes excess dyes and leaves the jeans in a state that already feels worn in. Raw denim, however, is left unwashed and is typically constructed of 100 percent cotton. Raw denim is stiff, and you will need to wear it in, wash it and naturally create your own whiskering and creases that manufacturers typically create for you. Raw denim is most often available from luxury brands and specialty stores; some Western wear stores also carry raw denim.
Pre-Washed Denim
Pre-washed or "washed denim" begins as raw denim and undergoes a process of washing that allows the fabric to shrink to the final shape and to feel movable like a pair of jeans you've owned for years. Washed denim also comes in a variety of "rinses" such as deep blue, medium or acid-washed, depending on the particular process. Simply look for a label that reads "100 percent cotton." For women, looser fits, such as boyfriend fits, are often constructed with all cotton because they do not need to retain their shape like skinny jeans. Pre-washed jeans are available in most clothing stores.
Cotton and Other Fibers
When you reach for a pair of jeans that look like they may have some spandex in them and find that they feel surprisingly soft to the touch, they may be constructed with a blend of cotton and polyester. You may also notice a tag that includes cotton as well as nylon or Tencel. These fibers help promote jeans that don't wrinkle and that retain color and shape for a garment that doesn't wear out too quickly. Research specialty stores and denim lines in department stores to find jeans with the fiber content you prefer.
Minimal Spandex
If you're looking for jeans that don't include spandex because you can't stand the feeling of jeans that hug your legs or seem to fall down during the day because of their extra stretch, consider the ratio of cotton to spandex. Jeans with a greater amount of spandex will feel more like stretch pants. Jeans with approximately 2 to 5 percent spandex, with the remaining fabrication consisting of cotton, will often feel like 100 percent cotton jeans that just happen to keep their shape. Cotton/spandex jeans are available in most clothing stores.
References
Writer Bio
Tarah Damask's writing career began in 2003 and includes experience as a fashion writer/editor for Neiman Marcus, short fiction publications in "North Texas Review," a self-published novel, band biographies, charter school curriculum and articles for various websites. Damask holds a Master of Arts in English and creative writing from the University of North Texas.
Photo Credits
Purestock/Purestock/Getty Images