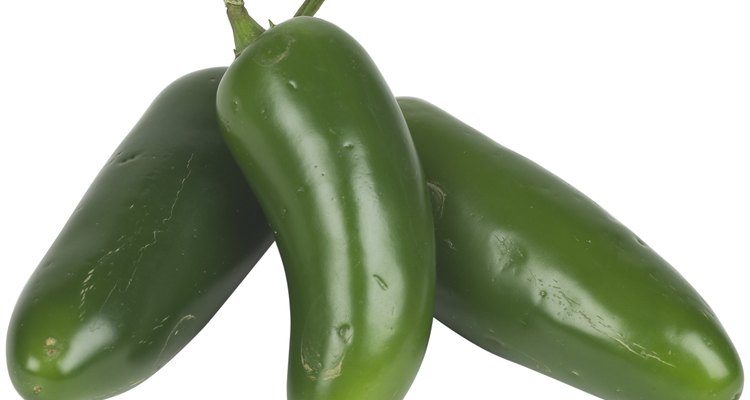 PhotoObjects.net/PhotoObjects.net/Getty Images
The cheddar in jalapeno cheddar bread contributes richness and tang, while the jalapenos amp up the flavor level. But man or woman does not live by bread alone. Pair your jalapeno cheddar bread with food that echoes the bread's Mexican influence of cheese and peppers.
Sublime Salads
The coolness of the salad offsets the heat of the jalapenos. Try a combination of jicama, tomatillos and cucumbers dressed with lime juice, cilantro and oil. The jicama is slightly sweet and crunchy. Tomatillos -- contrary to the name -- aren't tomatoes but a member of the gooseberry family. They add pungency. Another salad idea is a twist on salsa -- chopped tomato salad with cilantro, green peppers and scallions. Cut the jalapeno cheddar bread into cubes, toast them and use them as croutons.
Rib-Sticking Soups
Chorizo kale soup is actually Portuguese, but goes well with cheddar bread. The heat of the chorizo sausage mimics the heat of the bread. The kale adds a note of pleasant bitterness. Another soup alternative is tomato and corn, which consists of sauted onions, a touch of cumin, roasted corn and chopped tomatoes. Use the bread to mop up every last drop of soup.
Beans, Beans and More Beans
Refried beans are a classic Mexican side dish and a staple of the cuisine. The beans aren't fried twice but cooked twice. The first time, the beans are cooked in water until soft. The second time, the cooked beans are mashed and sauted in a pan with lard or cooking oil. Spread the hot beans on the bread. Another alternative is black beans mixed with queso fresco, a milder cheese than cheddar.
Meat Matters
Turn the jalapeno cheddar bread into a meal. Top the bread with your choice of chicken; machaca beef, shredded beef; or carne asada, grilled beef. Sprinkle additional grated cheese on the meat and place under the broiler until the cheese melts and the meat is heated. Turkey works as well, especially if you have some mole sauce on hand. If not, top with a good commercial salsa. An alternative to the cheese -- or in addition to it -- is pico de gallo, a combination of chopped onions, cilantro, jalapeno peppers and tomatoes.
References
Rick Bayless's Mexican Kitchen; Rick Bayless
Classic Mexican Kitchen; Jane Milton
Writer Bio
Katie Jensen's first book was published in 2000. Since then she has written additional books as well as screenplays, website content and e-books. Rosehill holds a Master of Business Administration from Arizona State University. Her articles specialize in business and personal finance. Her passion includes cooking, eating and writing about food.
Photo Credits
PhotoObjects.net/PhotoObjects.net/Getty Images