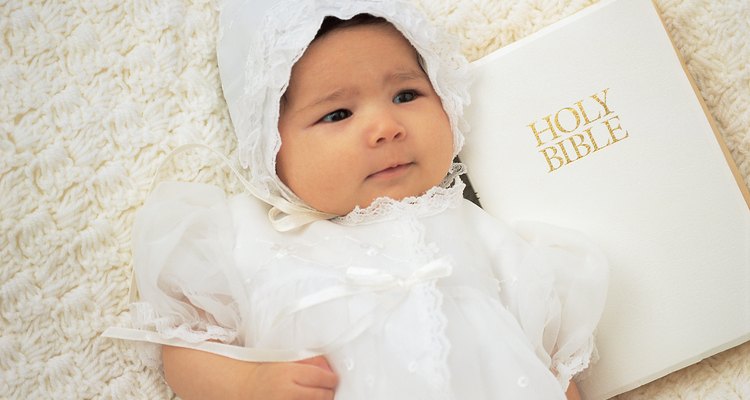 Comstock/Comstock/Getty Images
Many different religious denominations, including Catholics and most Protestant groups, participate in the baptism ritual. For some, it is symbolic of Christ's forgiveness of our sins. For others, it is a sacrament signifying the fact that the baptized person has become a new person in Christ and will now live his or her life in a manner that brings glory to God. Baptism outfits are either handed down through generations or purchased for the occasion.
Color is Important
Baptism outfits are almost always white, regardless whether they are for a man, woman, child or baby. The white color signifies the purity of Christ and the fact that His blood washed away our sins, leaving them "white as snow," as stated in Isaiah 1:18. If you are purchasing a baptism outfit, make sure that you purchase an outfit that is primarily white, although other small bits of color can be included, such as pink or blue ribbons.
Outfits for Full Immersion
Many churches that fully immerse their congregants in water during the baptism provide them with a white baptism robe to wear. If your church is providing you with a baptism robe, you only need to decide what to wear underneath. Most people do not wear swimming suits, as that can seem immodest. Instead, choose casual clothing, such as a t-shirt and shorts, that can can get wet. In this case, a special baptism outfit will probably not be purchased, unless it is purchased for the reception after the actual baptism. If your church does not provide a robe, then consider how the baptism clothing will look when it is wet. White clothing can be too sheer for modesty purposes. In this case, you may consider purchasing your own white baptism robe, or you may wear the aforementioned shorts and t-shirt and wrap yourself in a white terrycloth robe immediately after the baptism.
Outfits for Non-Immersion and Receptions
Some denominations simply sprinkle water on the forehead of the baptized person to signify immersion in water. In this case, a nice outfit is best. Again, most people choose outfits that feature white, such as a white sundress for women, or slacks and a white dress shirt for men. The same guidelines stand for clothing worn to a reception after a full immersion baptism.
Outfits for Babies
General etiquette states that the godparents purchase the baptism outfit for babies, although in many cases, baby baptismal gowns are handed down through generations. In addition, many parents may want to choose the baby's outfit themselves, rather than depend on the godparents to do it. Traditionally, both baby girls and boys wore gowns. Today, that varies depending on the family. In most cases, the baby's outfit is predominantly white in color and formal in style.
Outfits for Guests
Special guests, such as extended family members and close friends, are often invited to the baptism, even if they do not normally attend that church. Guests should dress up for the occasion, as it is usually considered a celebratory event on par with a wedding. Formal clothing is not required, but guests should dress nicely. Slacks, skirts or dresses should be worn by women, and men should wear slacks and a nice, collared shirt or dress shirt. Guests should not wear jeans or other causal clothing.